EU proposes 'trade court' to settle disputes
Comments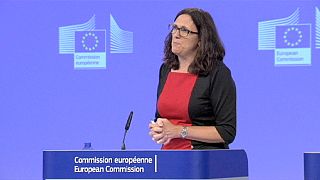 It's one of the most controversial free trade deals in recent history.
Opponents of the Transatlantic Trade and Investment says it puts the interests of big business first.
It was suggested that private companies could be allowed to sue governments before special tribunals.
The European Commission says judges should handle such cases.
It is now proposing to create an international court for the very purpose of settling trade disputes.
"We have really changed the content, and I hope that people can see that we have listened to the concerns, we have taken them into account, said Cecilia Malmström, the
EU trade commissioner.
"I hope that the serious people can see that we have really try to take on board the criticisms."
Critics fear major multinationals from the US could use any investor dispute mechanism to try and challenge European laws on employment and consumer protection.