French farmers struggle amid slump in milk and meat prices
Comments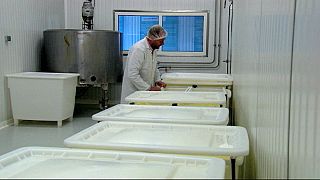 Thousands of farmers have been protesting in Brussels over falling milk and meat prices – and many of them are from France.
Germain Krantz runs a small farm in the village of Rangen, in the French region of Alsace. Beef and milk are his business.
Since January, the milk price paid to French producers like Germain has dropped from 37 to 30 cents per litre.
"Funds are dry and we're not able to pay the bills," he said.
"There's been a 30-thousand euro drop in income this year, compare to 2014."
Adam farm, a much larger family operation, is 20 kilometres away.
It launched direct sales in the mid 1980s. Today, the farm produces one million litres of milk. It is turned into various dairy products which are sold to local supermarkets.
"Direct selling is a solution for farmers. But the investment is huge. It would be wiser to lower costs for producers and for farmers to regain their cooperative powers," said Benoit Adam, from the farm.
With money tighter than ever, the fear is that some farms will simply buckle and go bust. That is why producers now want concrete action from the EU – to help ease the crisis.