Greece to pay IMF by Tuesday's deadline, says finance minister Varoufakis
Comments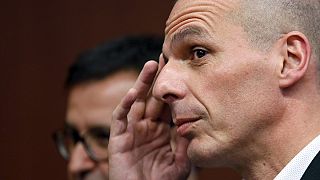 Athens will pay the 750 million euros it owes to the IMF on time, the country's finance minister said on Monday.
Yanis Varoufakis was in Brussels for talks with his eurozone counterparts.
He told euronews in an exclusive interview that the heavily-indebted country would come up with the cash tomorrow.
"Our standard answer is that Greece will always meet its obligations to its creditors and obviously we are going this tomorrow again.
Our expectations today is a good meeting that will establish reinforce the greats strides we have taken together with the institutions create a good atmosphere so that in the next few days we can bring about the agreement point which we haven't made quiet yet."
Greece could decide to hold a referendum on any possible agreement with its creditors.
Wolfgang Schauble, the German finance minister, hinted that Berlin would back such a move in an apparent shift in stance.
"If the Greek government wants to have a referendum, then let it hold a referendum. It would be maybe the right step so that the Greek people could decide whether it is ready to accept what is necessary or whether it wants something different. "
Other German officials have publicly opposed Greece holding a popular vote on any agreement.
But EU officials told euronews' Efi Koutsokosta that the European Central Bank will only loosen the terms of liquidity to the country once a final agreement is reached.