Belgian Muslims fear Charlie Hebdo backlash
Comments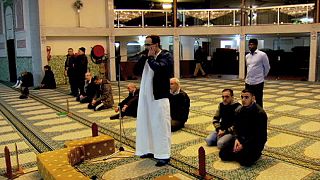 A mosque in Brussels, Belgium.
And the imam calls worshippers to prayer.
This is the Islamic and Cultural Centre of Belgium where local Muslims in the Belgian come to pray each day.
There are an estimated 620,000 Muslims living in the country.
Those who came to pray say they're shocked by Wednesday's events in Paris.
"We hope our fellow Belgians and people worldwide don't make the link between Muslims and terrorists. We are not terrorists, we are Muslims.
"We are peaceful people. Our religion tells to be kind to all and live together. That's what our religion calls on us to do," said one worshipper.
"I think these terrorist acts are unacceptable. We are peaceful people who want to live in peace.
"For us, these kind of acts are not permitted by Islam and accepted by nobody," said another man.
The local imam has also condemned the Charlie Hebdo shootings.
But Muslims here in Brussels – like others elsewhere in Europe – fear there could now be a backlash against their community.