EU energy officials mull next move over South Stream
Comments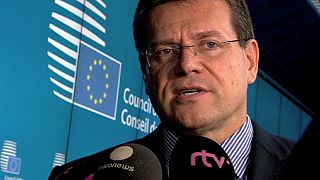 A number of EU energy minister have held talks in Brussels after Russia's move to cancel the South Stream gas pipeline.
Officials from eight EU countries took part, mainly nations in the bloc's southeast which will be most affected.
"After very short exchange of views this morning, there was already a proposal for this vertical gas corridor," said Maros Sefcovic, EU energy commissioner.
"I know that member states from central and southeastern Europe are thinking how they can now accelerate the work on gas inter-connectors, how can they improve the integration efforts."
One idea promoted by Romania and Bulgaria is to bring gas from the Caspian Sea through Azerbaijan.
Another plan floated is to pipe supplies off the shore of Israel through Cyprus.
The proposed East-Med Corridor would have a capacity of 8-12 billion cubic meters and would link Israel, Cyprus, Greece and Italy.
Its supporters say it would boost the EU's energy security because it would pass mostly through bloc member countries.