European Commission grants 'rule-breakers' three months to organise finances
Comments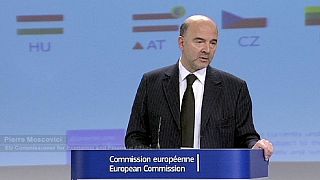 France, Italy and Belgium have been given three months leeway to organise their finances.
As expected, the European Commission will wait until spring 2015 to announce whether or not their governments' budgets are acceptable.
France's deficit currently exceeds the agreed limit, while Belgium and Italy are weighed down by debt.
Pierre Moscovici, the European Commissioner for Economic and Financial Affairs, Taxation and Customs spoke about the delayed decision:
"Let me make one thing clear: the remaining time we have must not be wasted. Between now and March, things need to move forward. And let me be very clear: the Commission won't hesitate to act accordingly", he said.
Whether or not this means the EC will impose penalties on the offending governments is unclear.
Brussels has chosen, for the time being, to have faith in the ability of the three countries to bring their finances in line with the regulations.
All three countries are being urged to conduct major reforms.
However, some have criticised the Commission for taking what is perceived as a lenient stance towards rule-breakers.
Germany is reportedly against the use of sanctions, fearing a breakdown in relations with close ally France.
The verdict is due in March, leaving very little time for France, in particular, to sufficiently reduce its deficit. In theory, Paris faces being slapped with a fine of more than four billion euros.
Valdis Dombrovski, EU Commission Vice-President for the Euro, hinted that it was too early to make a decision:
"We are going to base our decisions on actual data, which we will see in next spring, and not on forecasts and estimates", he said.
But, our correspondent Rudolf Herbert feels nothing is going to change:
"The Commission didn't say what will happen to the debt sinners if their budgets are not regulated – and the deficit reduced – by March or April.
"But we can assume that Brussels will not impose penalties.
"The question remains, then: who will benefit from the stability and growth when for many years rule-breaking has been the norm?"