Towards a European tax on financial transactions
Comments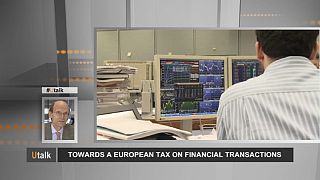 Question: Paul in Brussels "A group of EU countries (1) are working on the introduction of a European tax on financial transactions. A first version could seemingly emerge as soon as May. What would it entail?"
(1) Belgium, Germany, Estonia, Greece, Spain, France, Italy, Austria, Portugal, Slovenia and Slovakia.
Reply: Eric De Keuleneer, Economist and professor at Solvay Brussels School of Economics Free University of Brussels. "This tax on financial transactions would cover transactions in shares and derivatives on exchange markets. It would be pretty low – one tenth or one hundredth of a percent per transaction.
Its aim is to discourage certain types of transactions which are found to be too speculative, which have the potential to destabilize markets, they serve especially speculators and for those who need to do these transactions, the amount of these small taxes is not very important anyway.
Regarding the use of that tax, the objectives have varied over time: at first it was meant to finance development aid, now it could be used to finance State budgets. In fact, it would be much better to use this tax to strengthen the financial system.
Many financial institutions, many banks are still too fragile, they are financed by governments, that is to say by taxpayers, they are subsidized by taxpayers. The financial system does not actually bear the cost of reducing its systemic risk. And therefore, the use of such a tax to strengthen financial infrastructure would probably be the most useful way to use it. Taxes on financial transactions have been tried in different countries, that's still the case in Britain, Brazil, or Italy with varying results.
But overall we can say that they reach their target at least on national markets. On international markets, such taxes have not really been tested because the risk of possible relocation of financial firms outside the EU was deemed too big until now."
If you would also like to ask a question on U-talk, click on the button below.