Car insurance cover across European borders
Comments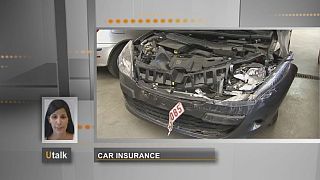 Nicolas from Brussels asks: "I plan to take my family to southern Italy this summer. Will my Belgian car insurance cover expenses if we have an accident on our way through France or in Italy?"
Luisa Laranjo, aSenior Comminication Officer at Europe Direct responds: "Wherever you are travelling in one of the 27 EU member states plus Iceland, Liechtenstein and Norway, your car insurance policy will automatically provide the minimum cover – the third party liability (if you injure someone else) required by law.
"If you are responsible for the accident abroad, you need to fill out the 'European accident statement'. You can get it from your insurer and it is identical in most countries.
"Your car insurance will cover up to the amounts set out in your insurance contract. Therefore, if the actual damage exceeds the maximum amount in the country where the accident happened and you do not have higher cover in your insurance policy, you will have to pay the difference.
"As from 12 June 2012, the minimum amount covered by compulsory insurance amounts to at least, for personal injuries: – 1,000,000 euros per victim or – 5,000,000 euros per claim – whatever the number of victims
"And for material damages, it amounts to: – 1,000,000 euros per claim – whatever the number of victims.
"However, other types of damage such as injuries you suffer – the so-called first-party insurance, fire, theft and so on suffered while abroad, are not a standard part of insurance policies.
If you have comprehensive insurance at home, check that the cover extends to travelling in other countries.
If you are a victim of an accident, you need to submit your claim for compensation to the insurance company of the person who caused it."
For more information about the EU, call 00 800 6 7 8 9 10 11 or check out the website: europa.eu/youreurope
If you would also like to ask a question on U-talk, click on the button below.