Monti: 'not the birth of a 2-speed Europe'
Comments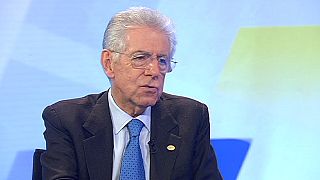 On his first EU summit, the new Italian Prime Minister Mario Monti was one of the protagonists of the long marathon to save the euro and strengthen fiscal discipline in member states. Monti played the role of mediator between the UK and the others, seeking agreement between the 27. Euronews Margerita Sforza spoke to him and first asked him if the agreement reached on Friday is enough to save the euro?
Mario Monti: "Well, I hope so. I think so. Anyway we will soon see. It is a significant agreement because it makes it more likely in future that countries will behave in a disciplined way regarding their budgets, so that we will not see these serious imbalances which lead to crises in various euro zone countries.
'And it is also important because this summit has put in place a series of instruments and finances to allow us to react to the problems of one country without any immediate contagion to another or any spread of 'the flames' and this is why we talk about a firewall."
Euronews: "The Brussels agreement has opened up what is being called a, 'two-speed Europe'. What do you think of that?"
Mario Monti "I want to be quite precise on this. It is not the birth of a two speed Europe because it already exists now or has existed in many different forms, for example there are countries which have signed up to the Schengen agreement, there are those in the euro and those who are not in the single currency.
'In this case Britain had specific problems. Faced with the need, especially Germany and France, to change the treaty in order to strengthen fiscal discipline, Britain said it would only change under certain conditions, ones that others did not accept."
Euronews: "During the negotiations you acted as the mediator between Britain and other European countries. What was it you least liked about this role?"
Mario Monti: "Britain's Prime Minister David Cameron demanded guarantees for the City and to protect it and the country from potential new financial regulations in Europe. This seemed unacceptable to many European leaders as well as myself.
'So I suggested, and always from the perspective of the single markets interest to the British, that he, David Cameron calls on countries in the euro area to do something to move forward and not backward. For example looking at and working for a faster development of the digital agenda project for the single market. But he was interested only in the guarantees to protect Britain and not in moving forward step by step so to speak and so the agreement failed."
Euronews: "So in the end Great Britain has closed the door?"
Mario Monti: "It is hard to say, but at least it will not be among the 27. In any case, I did note a strong desire not to "expand the Channel" in other words not to distance Britain from the other countries."
Euronews: "What are the consequences of Britain's 'No' for the EU?"
Mario Monti: "It is not going to be that relevant because the European market will continue substantially to be developed by the 27 member states. Of course, if the United Kingdom had been at the heart of the euro zone, with France, Germany and Italy, or at least, even without the euro, if the UK hadn't contemptuously excluded itself it would have been a United Kingdom that counts for more, with more influence. And given that the UK has competition and the single market in its own DNA, staying in would have been a stronger move with benefits for all 27 countries".
Euronews: "The European Financial Stability Facility has been increased to 500 billion euros starting next year. Do you think those funds are sufficient?"
Mario Monti: "My position was that the need to increase these funds and that a major "firewall", as we refer to the fund would not necessarily lead to greater expenses for the countries that contributed to it. The increase of the fund would indeed have been sufficient to prevent market tensions so I believe contributions would not represent a real expense.
'But several European countries have a very limited view of what is the common interest. Anyway, if you look at this "night package", it was agreed after a long night of negotiations, we can say that the result was not optimal as I would say, but certainly very good."
Euronews: "The eurobonds are still a taboo in Europe or is it only in Germany?"
Mario Monti: "Not only for Germany but also elsewhere. In my opinion we have enough arguments to convince the Germans that it is healthier to have eurobonds than, for example of pooling everything, this is done with the collective issue of the public debt quota of the different countries, a deliberate and conscious act, rather than as an afterthought and in a way forced through the purchase by the ECB of bonds of countries that are not in a healthy financial state."
Euronews: "Until now the watchwords in Europe were,austerity, rigour and discipline. When do we begin to talk about growth and how to boost growth in Europe?"
Mario Monti: "In recent years there was talk of rigour and discipline because in previous decades, before Europe took on a critical consciousness, the watchword was "seeking development at all costs", even at the risk of causing inflation and public deficit.
'Today's policies are the consequence of the mistakes of the past. Now Europe must have a vision of reaching a more balanced way, and there has to be European policies that can fuel growth. For example, a major integration of the single market, increasing economies of scale and competitiveness of European industries in the world."
Euronews: "Italy has presented a budget which includes particularly harsh pension reform. it will bring the country in line with European parameters, but the labour market remains precarious, especially for young people and those over 50, who are often the first victims of corporate restructuring. How can you ensure stability in the workplace?"
Mario Monti: "It is easier said than done. This is a very important objective both economically and socially. To ensure the stability of employment, we must first create job opportunities. In creating our economic policy which we have prepared with a sense of urgency we have provided specific tax breaks for companies that hire young people and women. That I believe is taking us in the right direction, but more must be done and we will do more."
Euronews: "To address the debt crisis Italy and Greece had to call on technocrats. Did that signal the failure of politicians or a certain way of doing politics?"
Mario Monti: "I hope and believe that is not the case. Maybe I'm not the best person to give you a neutral assessment, because I am one of those technocrats now working on the inside, so to speak.
'In Italy conflict between the political parties had become unbearable and exasperating, a new political coalition seemed impossible, and so what was needed was the temporary intervention of people outside the political party systems in those countries. I hope this way will prove successful."