EU bailouts under the spotlight
Comments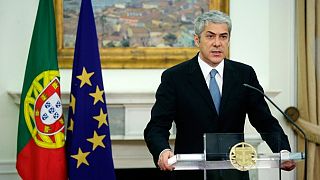 There is rising anger from workers fed up with wave after wave of austerity cuts. The street battles and the battles in the halls of power show a Europe deeply divided over how much financial pain to inflict in order to close gaping budget holes and increasing public debt.
As Portugal teeters on the edge of bankruptcy, the Lisbon government has finally sought help from the EU. The crisis has sent jitters through the markets driving Portugal's borrowing costs to record levels.
That has turned up the heat on German Chancellor Angela Merkel. Voters have been punishing Merkel's coalition in regional elections as Europe's biggest economy has been paying the biggest chunk of the bailouts.
These issues are discussed by programme host Chris Burns and guests, Markus Ferber, a German MEP and member of the CSU (European People's Party), which is a part of Merkel's governing coalition. He is on the European Parliament's Economic and Monetary Affairs Committee. The second guest is Joao Duque, who is the Dean and a Professor in Finance at the Technical University in Lisbon, and formerly Head of Research for Portugal's Financial Services Regulator. And the third guest is Carsten Brezski, a Senior Economist for ING Bank who has been a regular commentator on the financial crisis.