How can we build a more tolerant Europe?
Comments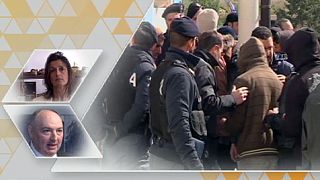 Patricia from Lyon asks:
"The revolutions currently taking place in the Arab world demonstrate a thirst for democracy, but for Europeans the worry is the arrival of massive numbers of immigrants, leading to increased violence and muggings in European cities. The question is: can we live in peace and tolerance?
Moshe Kantor, the co-chairman of the European Council on Tolerance and Reconciliation replies:
"Tolerance is something without which we can't live at all because it's the foundation for understanding each other for future. The best example of tolerance and reconciliation in the world not only in Europe is the EU. 27 countries in spite of the fact they're completely different especially Central and Western Europe, they united. Just now the European Union is more of an
economic union but it will go towards more and more political values.
"Today it is a "continent of the strangers". We can't live without strangers, without foreigners because it is a part of our "employment army" and practically we have to establish the laws for how to accept the strangers, to allow them to feel comfortable in the countries where we have dominant populations. And that's why it is so important to make a transition from positive intentions to legislation.
"The best techniques to do something practical is to create a centre for education and research which we would call the University of Global Security and Secured Tolerance."