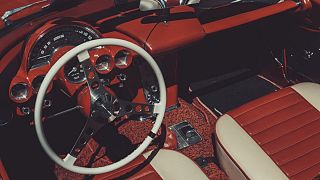 Choosing a car for its environmental credentials goes a lot further than just swapping petrol or diesel for electric power. Many drivers now look at the whole life sustainability of their next car and that means assessing how much of it can be recycled and what proportion of materials used in its construction have already been sourced from recycled materials.
A lot of new car buyers will shun leather for ethical reasons, yet this is one of the oldest upholstery coverings in the world. There's a good reason for that: it's hard-wearing and lasts longer than most other fabrics. This on its own makes it a more sustainable choice, but what can make leather a cleaner, greener option is knowing where it's from and how it was produced.
From Aston Martin to Volvo
More car companies than you might think take their vehicle's leather from a small company based in Scotland. Bridge of Weir Leather has been supplying hides for vehicle interiors since 1905 and it provided Ford with leather seats for the Model T built in Manchester. The association with Ford continues to the present, and Bridge of Weir leather is used in a huge variety of cars from Aston Martin to Volvo.
Aside from the quality of this leather, the reason so many car makers seek out this Scottish firm's product is the environmentally sustainable way it's produced. The hides are taken from beef cattle, so there's far less waste than with cows bred purely for leather production. Karen Marshall, Managing Director of the company, says: 'We've recently invested £6 million in a thermal energy plant which converts processing waste into heat and electricity, so the factory is completely self-sufficient for power.
"There is also a £1.3 million ultra-filtration plant that means 40% of the water used in the factory is recycled. It gives us the lowest carbon footprint of any leather maker in the world and the only one to earn the Low-Carbon Leather logo.'
Further evidence of Bridge of Weir's commitment to cutting waste is how the hides are cut. Every processed hide is electronically scanned so the maximum number of pieces can be cut from it. After that, any section with enough material still left is also repurposed for small items such as door pulls, leaving very little unused leather.
At BMW, its leather-lined cabins impart an intended sense of luxury, but in its i3 electric vehicle the message is quite different. The German firm has deliberately chosen fabrics and finishes that maximise the amount of repurposed and recyclable materials incorporated into the design.
As an example, the wood seen in an i3's cabin is eucalyptus because it needs 90% less surface processing than most other woods. It's also sourced from trees grown in plantation certified by the Forest Stewardship Council, which means those trees that are cut down are replaced and allowed to grow at their natural pace with no impact on surrounding wildlife.
Upcycling polluting materials
Yet BMW is going much further in its bid to make cars that don't just use sustainable components but actively take polluting materials and turn them into something useful and reusable. In every i3, there are 27 recycled plastic bottles used to make door panels and sections of the seats. There's also plastic taken from the world's oceans such as old fishing nets that are turned into floor mats.
To do this, BMW was instrumental in developing a new process to turn nylon waste into a high-quality thread called Econyl, so 20% of an i3's interior and 80% of the visible surfaces are now made from recycled parts.
Daniela Bohlinger is Head of Sustainability in Design at BMW and says: 'Scrap materials are not waste products. Anything we can use to replace materials derived from petroleum with natural materials or recycled materials – in other words, all synthetics – is good news. Material from secondary raw materials does not have to be inferior. The floor mats are a great example of this. This material is so impressive that the famous hosiery brand Kunert has even launched a line of nylon stockings made of Econyl.'
Bohlinger argues that a change in approach to design is also needed to make room for more recycled materials in car interiors. 'The material is beginning to determine the design rather than the other way around like it used to be,' she says. 'It's an exciting process because every alternative option and new fabric opens up a whole range of fresh ideas and solutions. At the moment, we're looking at wool made from kapok seeds and even how used coffee grounds can be made to absorb odours, which has obvious applications for car interiors.'
Like Bridge of Weir, Bohlinger also believes making car interiors more sustainable does not mean having to sit in the vehicular equivalent of a hair shirt. She adds: 'Sustainability is not synonymous with personal denial; it is innovative and attractive. We already proved this four years ago with the interior of the BMW i3. Now, we don't have to make the materials so visible as many customers now think it's enough to know the parts are sustainable and they are also okay with these types of materials showing traces of their previous life.'
As a measure of just how far recycled components can go in a car's interior, Bohlinger says BMW is even looking at its Rolls-Royce brand and how such elements could be used in its interior. She concludes: 'Recycled materials will soon be the norm for much of the cabin. Why not? It makes environmental and financial sense and can add to the experience, so it's all positive.'
Words: Alisdair Suttie