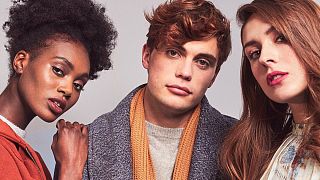 2018 was a big year for sustainable fashion. Stacey Dooley shone a light on the ethical issues inherent to fast fashion business models with her documentary Fashion's Dirty Secrets, a timely exposé following the news that Burberry had burned $50m worth of unsold stock. As veganism continued to rise, so the sales and proliferation of vegan materials grew. Stella McCartney gave the world vegan leather Stan Smiths, and a vegan silk alternative crafted from orange fibre made the headlines. Simultaneously, multiple goliath brands banned fur, from Versace and Burberry to Jean Paul Gaultier and Chanel, which also banned exotic skins.
But there are those brands that have been diligently plugging away at the sustainability cause for decades. One such pioneer is British brand Komodo, which has been producing ethically sourced, organic and natural fibre fashion since 1988 – a time when the term sustainable fashion was not yet in widespread use.
Founded by Mark Bloom, also known as Joe Komodo, the label was born in north London, inspired by a box of clothes that Bloom's sister sent him from her travels in Bali. Bloom sees the music festival scene of the late 80s and early 90s as being integral to Komodo's inception. "It was the early days of acid house, and I had a market shop in Islington and a big circle of mates. Komodo really flew in on the back of the magic carpet that was the house music scene. Back in the 80s we had no world wide web – just the fax machine! The consumers we met back then came to see us at Glastonbury or Womad, or at The Clothes Show Live, or London Fashion Weekend. They were amazing events and people loved to come along and engage with us and try out new styles. Now the focus has swung to online, but I think that over time consumers will miss the contact with brands – we certainly miss them."
Today, the brand is considered a stalwart of the UK's ethical fashion arena. In comparison with the small-scale businesses that comprise much of the sustainable clothing industry, Komodo is a major player with a multinational supply chain, trading with factories in Nepal, Indonesia, China and Turkey. "We go out to visit our factories each season," says Bloom. "It's important to know your suppliers and have lots of communication with them, including helping them to plan their production and providing them with orders and payments as early as possible."
Discussing the fabrics that play a key role in Komodo's production line, Bloom explains that the brand has "long-championed hemp fibre and the use of bamboo, along with Tencel, organic cotton of course, and handicraft skills where we can, like in our upcycled tyre sole Bali sand shoes."
Which items are bestsellers? "It's hard to pick one thing," says Bloom. "But how about our organic cotton knitwear from Kathmandu. Nepali knits used to be all scratchy trekkers' wool knitted with old wooden knitting needles. Now we make top quality organic vegan knits that are so nice to wear and promote organic farming."
There have been big hurdles along the way, not least keeping the brand's identity fresh over a 30-year period. "With that, the key is to keep a good balance between tried and tested methods and new ideas," says Bloom. "Outside of that, our toughest moments have included various financial crashes, stores going bust, and a few production disasters that have hurt. We went through the sudden decline of rave fashion and a few other trends that died on their feet. The 2015 earthquake in Nepal was tough for us – but so very much tougher for the people out there."
Developments for 2019 include plans to introduce waterproof Tencel and expand Komodo's vegan knitwear line. There's also a new 'permanent' basics collection in the making, which will run alongside seasonal ranges. "We're always looking to encourage better practice and there'll be lots of evolution for us this year," says Bloom. "It's all about offering great fabrics in simple and evergreen classic styles. We hope the stores will enjoy the consistency and the public will love the feel of the fabrics. We're also endeavouring to stop using plastic in our packaging – stay tuned for our new alternative packaging which will come through at the end of the summer."
Quizzed on his proudest moment to date, Bloom casts his mind back to a landmark store opening. "I suppose I'd pick the day we opened our first Komodo shop in Tokyo," he says. "Paul Smith came in with a nice plant to wish me well – that's a good luck token in Japan."
Turns out, Komodo really is powered by green on all levels; that good luck plant has worked wonders.
Writer: Mary-Jane Wiltsher