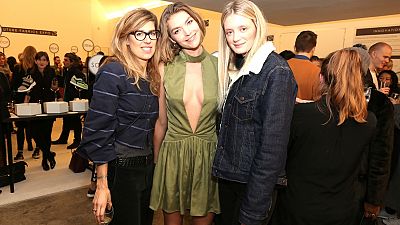 'That's so last season' is fast-becoming an antiquated expression as the fashion world embraces the real next big thing: the last big thing.
Fabrics and yarns crafted from waste — whether from post-consumer textile detritus or stalks, leaves and other food and wine product residues — are white hot. Plastic water bottles can also be recycled into yarn and cloth. And algae-derived materials are truly on the verge.
These are just some of the eco-friendly textile trends showcased at The Sustainable Angle's Future Fabrics Expo, which takes place in London this January. Such materials and production methods — along with an event that brings together brands, designers, mills and suppliers, and the eco-curious — are not only in vogue, but also desperately needed.
Fashion's waste
Fashion's waste problem is just one of the environmental challenges facing a generation — but a significant one. In the last 15 years, global clothing production has nearly doubled, according to a recent study from the Circular Fibres Initiative and the Ellen MacArthur Foundation, which supports the transition to a restorative and regenerative economy.
Future Fabrics Expo shines a light on such issues, along with visionary solutions by presenting a selection of materials that leave a lower ecological impact. It will also host seminar talks — one of which includes Lukas Fuchs, a research analyst at the aforementioned charitable foundation.
Another discussion topic is how fabrics like denim are being made in China at a time of fierce environmental regulation enforcement in the nation of 1.4 billion.
Circular fashion
The two-day event also spotlights circular fashion, a concept perhaps most succinctly summed up as "take, make, remake," by Eva van der Brugge, innovation manager at global sustainable platform Fashion For Good.
Members of her Amsterdam-based organisation were attendees at last year's Expo. This year, Fashion For Good will be actively involved, participating in a seminar and an innovation hub, which will feature emerging materials and tech linked to its 12-week Plug and Play startup accelerator.
"Startups are agile and are able to develop innovative solutions," notes van der Brugge, explaining how tech and processes from other sectors like the automotive and coffee industries can cross over and invigorate such young companies.
However, she recognises the invaluable knowledge, scalability and partnership opportunities which big established brands contribute. "This year, Expo also brings together industry leaders and investors, which provides further exposure for our innovators," she says. Fashion For Good currently boasts 12 corporate partners.
Sustainable agriculture and organic cotton
In the past eight years, Future Fabrics Expo has mushroomed from an up-and-coming gathering held at London College of Fashion in 2011, to a must-go industry showcase, taking place in a 22,000 square foot space and featuring guests from global clothing brands like Stella McCartney.
Expo founder and director Nina Marenzi — who compares the event to a buzzing beehive — conceived of it after writing a masters dissertation in sustainable agriculture which touched upon how the fashion industry had been dragging its proverbial heels on adopting organic cotton.
These days, support from the industry, along with the entertainment world is robust. As such, model and activist Arizona Muse and stylist Rebecca Corbin-Murray will both be curating an area for independent brands at 2019's Expo.
"It's a real moment of change. It permeates every part of the fashion industry," notes Marenzi, "Awareness of plastic, water pollution and waste problems contributed to a huge shift."
But innovation is also a key part of keeping the momentum going. "Traceability technology is very important," she adds, explaining that tracking tags can be embedded in clothing fibre to ensure that it's actually been sustainably sourced.
After all, it's not enough to throw around eco-buzzwords. Transparency is a must. That's why the thousands of fabrics and materials at Expo will be displayed with informational cards which include key details such as sustainability information and environmental certification.
And which fabrics would Marenzi 'certify' as the latest green trendsetters? "There is no single fibre that is the Holy Grail in terms of sustainability," she admits, "But we can also look back to the fibres we've had for thousands of years and the way they've always been grown." The next big thing really is the last big thing.
Future Fabrics Expo
24-25 January 2019
9:00–18:00
Victoria House Basement
Bloomsbury Square, Southampton Row
London, WC1B 4DA
Writer: Shana Ting Lipton