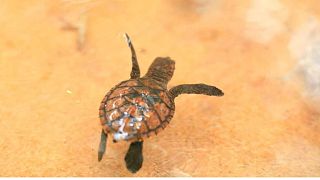 When walking through the Jerrabomberra wetlands, in the centre of the Australian capital of Canberra, one would not think that underground, new lives are beginning. New lives which are already in danger.
A recent report shows that two-thirds of the world's 356 turtle species are threatened or already extinct, however, their decline can have ecological consequences. Among the reasons, we can find the impacts to other species including habitat destruction, unsustainable overexploitation for pets and food, and climate change.
In Australia, around the Murray River region, for example, the Eastern Long-necked Turtle has declined in abundance by 90% since the mid-1970s.
However, as these turtles live for 60 years, the population decline can easily be overseen, but in fact, recently the captured ones were nearly all adults at the wetlands and not a lot of juveniles, said Lori Gould, from Woodlands and Wetlands Trust. Their volunteers spent last summer patiently following female turtles and protecting their nests, as the baby turtles are in peril from a notorious threat.
Click on the video player above and watch how these volunteers give a head start to the baby turtles.