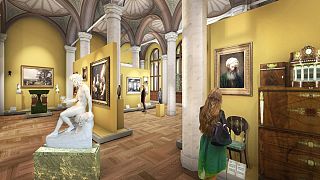 What if we started to think about buildings in the same way that we think about people. Would it change our appreciation and understanding of them? In Ingmar Bergman's Freudian classic Wild Strawberries – the most salutary celluloid memo ever about making the right decisions in life - aged Professor Isak Borg drives from Stockholm to Lund reflecting on wasted chances and the mistakes he's made. This sophisticated passage through time was partly filmed just across the sparkling, frigid water from Sweden's National Museum in Stockholm's Old Town, where a dream sequence gets particularly Dali-esque.
The National Museum has had a long life – several in fact. If we look back through its own ups and downs we can witness the exuberance of youth following its 1792 founding, the primness of the 1866 building by Friedrich August Stühler , and a decline that is as inevitable as sand slipping through icy seaside fingers once old age takes its course. Unlike every human, it has been given a second chance and a second life.
Restored by two Scandic architecture practices – Wingardhs and Wikerstal – and with interiors by New York's Joel Sanders and exhibition design by Henrik Widenheim and Albert France-Lanord, the National Museum has been buffed, plumped and re-animated - like a Kardashian stepping out of a cryolab. It opened again on Oct 13 2018. Recent visitors to the Rijksmuseum and the V&A won't be surprised to see a similar modus operandi at work here: restoration of damaged walls, more light from windows and skylights, humorous ways of incorporating modern fire and ventilation systems into stucco. Materials like brass and wood are elegantly deployed.
An exhibition of Nordic design
The paintings are the same but they are hung to show their best side. An exhibition of Nordic design showcases Arne Jacobsen chairs, a library is lit with cute green lights, bizarre miniature pictures huddle together. The museum's managers say they want to "work with the building, not against it." Some peacocking is present: display backgrounds are not white – they are yellow, turquoise, burgundy. But those displays can be shifted around as the museum desires – this is 'collaborative consensus' Sweden after all, where it takes a meeting to decide on what to have in your breakfast bowl.
Life is as much about what it is not as what it is. Absence and loss dominate on a scale that scares us so much we don't dare dwell on it. As in Wild Strawberries, every human and every life is full of holes, of missing, of longing, of emptiness, of grief. For five long years the National Museum has been closed, no visitor has wandered its corridors. Yet when you think about it, is this even something weird? Streets are deserted for more hours than they're thronged. Every night a building lies empty, telling stories to nobody, reflecting on its own 500 years in the long march of time with silent dignity. At night Stockholm basks like a sleeping giant, only its famous neon toothpaste advertising sign remains awake, flashing its message in front of no potential buyer's eyes.
Free access to the museum
This restored edifice will sit entirely alone for half of its life. But when its doors are open by day the story will be different. The Swedish government has made the call to grant free access to the museum (you previously had to pay). People will want to see what they got for their 110 Million EUR (which is coincidentally the same price as one glass of champagne in the Stockholm visitstockholm.com). They will come in droves – a million visitors a year looking at the 5000 items on display (they are hundreds of thousands more in a warehouse).
They will buy cute or kitsch souvenirs in the shop and they will lunch on pike with cauliflower, red roe and boiled potatoes in TV chef Fredrik Erikkson's convivial restaurant which houses one of the single nicest parts of the entire restoration job – a gleaming copper-clad buffet station which every design hotel should try and buy themselves. And maybe, like Isak Borg, the stoic Swedes who come and look at the art will let their minds wander, will think briefly of something or someone that is not there any more, will rue. But their museum is here, that's one thing they can take comfort in.
_Fly from London to Stockholm via Riga with Air Baltic
_
_Lounge access kindly provided by Plaza Premium
_
Christopher stayed at the At Six Hotel Stockholm
**Writer: Christopher Beanland **