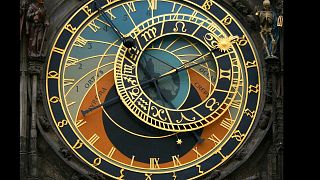 Copyright

Yelkrokoyade/Flickr
After the medieval astronomical clock, the Prague Orloj, has stopped for long months, it is ready to be fully reinstalled.
The clock - believed to have been installed in 1410 - It is a very famous tourist attraction with its rotating 12 apostles that appear with the turning of every hour.
In January this year, the clock was completely removed from its place on the tower of Old Town City Hall. The building was badly damaged at the end of World War II. After the fierce battles, it took more than three years to make the clock function again, but some of the repairs then were not done properly. The current restoration works were made to fix that, as well as some other poorly done repairs mostly from the 20th century. The goal was for the clock to go back to its 19th-century mechanical design.
Click on the video above to take a look behind the curtains of the reparations and learn more about the stories linked to the clock.
Writer: Doloresz Katanich with AP