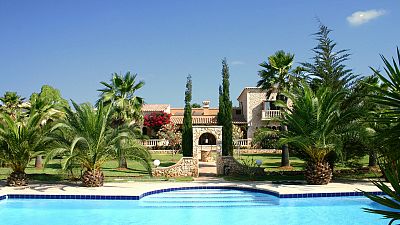 It's a common predicament: what is a high net worth individual to do if they want a second home abroad, but don't feel like they can commit to one place?
Until 2007, the poor souls would have had to bravely put up with their one villa in the Maldives. However, help is at hand, courtesy of The Hideaways Club. The Club is an international investment fund of shared ownership properties, through which members can jet off to myriad destinations across the world and enjoy a second home/flat/chalet/villa/castle without the onerous tasks usually associated with it, such as maintenance and energy costs. To sweeten the deal, there's a 24/7 concierge at your beck on call, and the properties are smack bang in the middle of each destination. Suffice to say, members are usually happy with what they get.
One such member is Wimbledon stalwart and former British number one tennis player, Tim Henman. When his playing career came to a close, there was a decision to make: "When I stopped competing, my wife and I thought about buying a place overseas. I was never allowed to ski when I was playing tennis, because of the injury risk, so we thought about buying a chalet, but then we like France and Italy for the hot weather.
"Then we came across The Hideaways Club. It's very much a lifestyle choice and you can have a second home for every season of the year. Having travelled so much of my life and had just one or two weeks of holiday a year, suddenly I wanted to take advantage of my extra free time. I'd much rather spend my time in a villa than a hotel - I spent most of my career living in hotels - and we love to get away from it all during our holidays, so it's very much about the space and privacy.
"Most of the villas sleep around 10-12 people so it's great too for inviting friends and family along."
To say Mr Henman is an enthusiast would be an understatement, with the sportsman recently becoming an official ambassador for the Club. He's certainly used the service to its full extent, visiting 15 of the Club's properties in places as varied as France, Italy, Sri Lanka, Spain, Switzerland, and Ko Samui in Thailand.
"One we really enjoyed was Ko Samui for New Year's a few years ago," said Henman. "It's an amazing beachfront villa and we had incredible staff looking after us. There were 10 of us, we went with another family who are great friends of ours. I lived in hotels from the ages of 16 to 33 for probably 35 weeks a year, so I enjoy the space and the privacy that goes with the Club."
For reasons still unknown to myself, I was invited to stay at the Club's Paris property, an apartment just off the Champs Élysées. The apartment is part of the City Collection, a newer range of properties in cities such as Berlin, London and New York.
As promised, my local concierge was waiting for me, a jovially acerbic American man who'd lived in Paris for more than twenty years. A quick tour around the apartment - a chic two-bedroom with open-plan living and dining areas set in a perfectly-Parisian townhouse complex - and some tips for the best places to eat in the area, and I was left to my own devices.
This included accidentally pulling down a curtain rail in the master bedroom, but one phone call with my American fairy godfather and the problem was sorted while I was out at one of his recommended bistros catching up with an old friend and becoming acquainted with a bottle of red wine. I'd say I tore the curtain down deliberately, as some kind of journalistic test, but nobody would believe me.
This service is also vital for Henman: "The first-class Concierge team takes care of everything, from restaurant bookings, airport transfers, arranging curated tours, babysitting, and more. You'll be very hard-pressed to find a team who knows more about our destinations.
"When our children were small the Concierge would organise things like cots, car seats and they even stocked our fridge with our favourite foods. You can be pretty demanding!"
Luckily, I had no children with me to add to the destruction, especially when taking the record-breakingly small French lift up to the apartment after one too many absinthes. However, this is all part of the experience.
"It's all about the lifestyle," says Henman, "and enjoying our second homes without the usual hassles of owning property from afar, leaving us to enjoy every minute of our holiday time with friends and family wherever we go.
"I'd love to go South Africa next for some winter sun. There's virtually no time difference with the UK which is a bonus and there's lots to see and do, with some excellent wines to try too."
See you there, Tim.
Find out more The Hideways Club
Writer: David RS Taylor