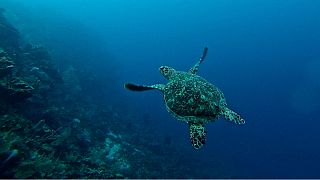 Copyright

Erin Simmons / Unsplash
Every year between the months of July and October, hundreds of Olive ridley sea turtles (Lepidochelys olivacea) land on the beaches of the small coastal town of Playa Ostional in Costa Rica to lay their eggs. It's known as "Arribadas" which means arrivals and it's also a time of celebration for the local community. The nesting season draws hundreds of locals and tourists alike to witness nature at work.
Unfortunately, poachers, fishing nets, pollution and other threats put these otherwise protected species in danger and cause an alarming decline in turtles hatching on the beaches of Costa Rica.
Click on the video above to watch what does the local community of Playa Ostional in coordination with the government and environmental protection agencies to protect the sea turtles during their nesting season.
Stay tuned for more videos about travel, cuisine and lifestyle on Living it.