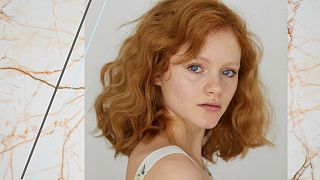 First scouted at Leeds festival by Models1 back in 2014, British actress and model Emma Laird has come a long way. Recent editorial include Grazia France, Elle Croatia and Glamour Mexico, campaigns for Skinnydip and Benetton, and appearances in sleek fashion films. She is particularly active on Instagram where she shares behind the scenes pictures, quirky makeup videos and her interest for sharks and oceans. We grabbed a little bit of her time to discover where she will spend her summer, favourite eateries and beauty routine.
Q. What are your plans this summer?
A road trip through the States. My friend turns 21 this year so we're planning a road trip starting in Salt Lake City, going to Vegas, the Grand Canyon, and then up the West Coast. I can't wait!
I also have a lot of friends in LA and it's pretty much always summer there. My favourite place for food is probably Crossroads or Cafe Gratitude. For a chill, out of the way place to socialise I'd always say [Soho House](https://www.sohohouse.com/houses/little-beach-house-malibu on Malibu)!
Q. What's your summer beauty routine?
I ALWAYS have SPF in my moisturiser, even in the winter because my skin is pale and sensitive. But during summer I mix it with another facial sun cream for extra protection. If I'm on holiday and swimming a lot I try to use shampoo as little as possible so it doesn't completely dry out with swimming every day.
Coconut oil is always a favourite as a moisturiser to sensitive skin like mine, you just have to be careful of leakage because it melts during summer and can get messy. I hate wearing heavy make up when it's warm so I only do a layer of black mascara, clear brow gel and lip balm. Nothing on my face, I just feels too nasty. And no moisturizer at night.
Living it Top Picks
[Glossier](: https://www.glossier.com/products/invisible-shield) Invisible Shield daily sunscreen SPF30 (left); IGK Hair Direct Flight Multi-Tasking Dry Shampoo (centre); Sister & Co Raw Organic Coconut oil (right).
KikoPerfect Eye Duo Highlighter Pencil (left);Diorshow,Waterproof Mascara (centre);ShiseidoSun Protection Lip Treatment SFP 20 (right).
Q. Three songs in your beach playlist
Giorgio Moroder - Lady Lady Lady
Lana Del Rey - Ride
Portugal. The Man - Feel It Still
Q. How do you live a more eco-conscious life this summer?
I am always carrying my reusable iced coffee cup and metal straw with me. I drink so many iced soy lattes in this heat! I refuse straws when I'm out with my friends which is something I think everyone should be doing now. It's so easy to say no to plastic when you're out!
Living it Top Picks
Frank GreenOriginal Smart Cup (left);Chilly's Bottles(centre); Bambu reusable bamboo straws (right)
Q. What are your suitcase essentials?
A portable charger as I'm often exploring a city using google maps. A few other must haves are sunglasses (duh), goggles (if it's a beach holiday so I can open water dive and enjoy the scenes underwater) and a book! Of course, I pack my phone but I try to detach myself from it if a relaxing holiday is what I'm looking for.
I want to see the scenery and watch the ocean waves crash against some yellow sand as I drink a sparkling water and lime on my balcony, not see what people are posting on Instagram!
Header Picture: Credit Aaron Hurley.