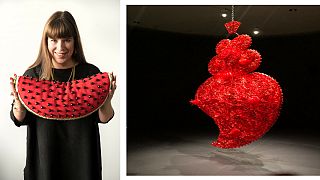 In the monumental atrium of Bilbao's Guggenheim Museum, the eye is immediately caught by the long colourful arm of Joana Vasconcelos' latest sculpture, "Egeria". Spreading voluptuously throughout the room, up to the high ceiling, it almost looks alive. It stands as a potent metaphor of the occupation of museums by women.
This striking piece was created by the Portuguese artist, one of the most famous and innovative names in contemporary art today, for her new exhibition at the Guggenheim. Entitled "I'm your Mirror", it features selection of thirty works, some dating as far back as 1997, which irresistibly draw the viewer into Vasconcelos' colourful world and powerful symbolic imagery.
Your new exhibition "I am your mirror" is a retrospective spanning two decades of your career. What is it like to see all your work brought together in one single place?
"I'm really happy to be here, with some of my most important works. This is new for me because I am quite used to having everything shown separately. Putting the pieces together and creating a dialogue between them, seeing how they interact, offers a new perspective. It's very interesting. All the works touch upon common themes, such as identity or femininity and here, they help each other. They grow bigger because they are in relation with one another. I'm pleased with the result, I was not expecting to like it so much, and would like to do similar exhibitions again in the future."
In 2012, you exhibited at Château de Versailles, a symbol of tradition with a rich history. You are now exposing in the Museo Guggenheim, iconic for its modernity. How do the experiences compare?
"Versailles is tradition, it's luxury, it's an identity we all have in the back of our minds when we think about the world as a monarchy. The Guggenheim is the free world, it's the American spirit, it's how you look into the future. So it's quite striking for me to have exhibited in places linked both to the past and to the future. Exhibiting in Versailles was very interesting because I was relating my art to tradition, to les "arts de la table", to luxury, but at the same time I had to deal with the fact that some of my works, like "The Bride" (a chandelier made of tampons) were refused. Here in Bilbao, I had the opportunity to be free to do what I wanted, to engage with the future."
The exhibition's official image is the artwork "I'll Be Your Mirror", which is a mask made of mirrors. How does the mask as a concept resonate throughout your work?
"The mirrors in the mask physically reflect all the artworks I have done in the last 20 years. In a way, this exhibition is about me taking off the mask, and revealing myself to the world. As an artist, you assume different identities over the course of your career. These identities are all revealed here, and reflected multiple times into the mask. This concept can also be linked to the idea of femininity which my work touches upon, and to the fact the women's true identities, sexuality and freedoms are often repressed or hidden. My piece "The Bride" talks about that, and about the concept of dual identities which is also symbolised by the mask : from afar it looks like a beautiful chandelier, but when you come closer, you see it in a very different light, you notice with a bit of shock that it's made of tampons."
A lot of the themes you tackle are in fact linked to femininity, feminine intimacy and feminism. This year was marked by women speaking up and denouncing violence and oppression, best exemplified with the #metoo movement. What is your view on all those changes and how are they reflected in your work?
"We are arriving to a point where the mask is coming down. People start to talk with openness and truth, without shame or guilt. We have to be honest, and face the problems clearly. That's what I do with my work, so I am feeling very connected with what's happening. I feel like I am a mirror of all those issues, of these feminist movements, with some of my pieces like "The Bride" or "Burka" which deal with themes like the Virgin Mary, the domestic space, or women's intimacy. Everything is connected. We have to drop the mask and talk about things that concern women, that reveal their identities. That means talking about the problems but also about positive experiences."
Women are still a minority in the world of contemporary art. How can women take on a greater role?
"There's still a lot to do, and museums and galleries can be part of the answer. The Guggenheim Museum shows a lot of women artists, which really highlight how the world is changing. A museum reflects what the world needs, and the Guggenheim is fulfilling this need of showing more women, those with long careers that have had an opportunity, but also artists early on in their career who need to be seen and to develop their work."
You are Portuguese, working in Lisbon but you were born in Paris, and you have exhibited in many cities across Europe. How is your European identity reflected in your work?
"Europe is very present in my work. I feel like an European artist. I have lived all over the world, but I am part of a culture which is defined by a history, traditions and symbols which are all Europeans. I work a lot with those symbols. Of course, I am Portuguese and things that surround me are the most important, because they are the starting point of my reflection, but then I have an international approach connected to the western world."
Your artworks display incredible technicity and require hours of minutious work. Would you say that technique is only there at the service of all those ideas that matter to you about our society?
"I am a conceptual artist. I'm not like the sculptors of the 19th century, using a technique, or a specific material as starting point and then developing the art pieces. I'm an artist that works from an idea, and then I build it, I'm going to reflect it in my work. Scales, techniques, materials - they are always there during the creative process and important, but they are at the service of a conceptual process, not a material one. It's easy to explain this with my work "Marilyn", a huge high heel shoe made of pans and lids. I first thought about what it means to be a woman today. I wanted to translate the complex female identity in our contemporary world. Women can combine a private, domestic identity reflected in this statue by the kitchen utensils, and a professional, public identity linked to work and to luxury, represented by the shoe."
Catch I'm your mirror by Joana Vasconcelos at Museo Guggenheim Bilbao, from 29 June to 11 November 2018.
Writer: Lea Surugue