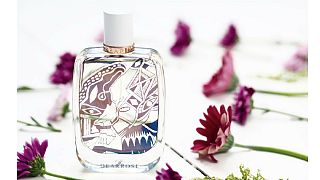 French perfume storyteller Chantal Roos is behind iconic perfumes Opium by Yves Saint Laurent, Le Mâle by Jean-Paul Gaultier, L'eau d'Issey by Issey Miyake. Her daughter, Alexandra Roos, grew up surrounded by the world's most captivating scents: "perfume is a part of my genes. I've inherited it," she says. Together, they crafted a selection of fragrance - Bloody Rose, Sympathy for the Sun, Nymphessence,... - under the label Roos & Roos.
Alexandra Roos, a musician in her previous life, brings the lyrical creativity whilst Chantal Roos draws from her deep knowledge of the perfume industry. They compose the storylines behind the fragrance notes made by perfumer Fabrice Pellegrin. The Roos & Roos collection wishes to bring the coveted' French touch' in a bottle.
According to the Roos, French women no longer want only one perfume for a lifetime. They are more open to flirting with several scents and change throughout the seasons, or even the day, to suit the different mood. "A woman I know wears Sympathy for the Sun in winter because it reminds her of pleasant memories from her summer vacations," says Chantal. "It reminds me of going to holidays on the French Riviera, smelling the Hesperia flowers, the salty wood, the wind, and the sails." she describes.
French Perfume as Haute Couture
Coco Chanel once said, "a woman without a perfume is a woman without a future". This sentence resonates strongly with the Roos. "Perfume is part of our culture, just like wine," Chantal says. "Designing a niche perfume brand is a lot like making Haute Couture because it entails being free to experiment with your own creativity and using raw materials that were once forgotten."
"We developed the fragrance Bloody Rose based on the idea of hypnotic seduction. A woman, wrapped in white roses, walks into a room and makes everyone stop and stare. An addictive smell of patchouli fills the room as she moves. We believe this is the essence of seduction: elegant, mesmerizing, and unforgettable." describes Chantal Roos. On the other side of the spectrum, a scent like Nymphessence was designed for daytime. It "makes me feel young, happy, fresh, and optimistic. It's the perfect perfume for a morning in Spring." says Alexandra Roos.
As our conversation wraps up, Alexandra Roos' daughter comes down the stairs, embracing her mother and her grandmother. As the women lean in to greet her, they delightfully exclaim, "My, you smell good!". A family story to be continued.
Writer: Ruby Veridiano