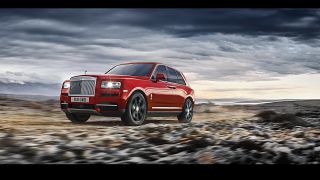 Rolls-Royce has unveiled its long-awaited SUV, marking several firsts for the super-luxury car company.
The Cullinan isn't only the first luxury 4x4 SUV produced by Rolls-Royce. It's also the first time a Rolls-Royce vehicle has a hatchback, or opening tailgate, although the company is claiming another first, the creating of what it calls a truly "three-box" SUV, as a glass compartment separates the trunk from the rear passenger space. It-s also d the first Rolls-Royce equipped with rear seats that fold down.
"The label SUV is now applied to anything with a two-box silhouette and the least suggestion of going off tarmac. We envisioned an authentic, three-box high-bodied all-terrain car with a convention-challenging design and absolute capability that would satisfy the adventurous urges of our clients," says Giles Taylor, Rolls-Royce's director of design.
The sleek yet quiet all-terrain car packs a V12 under the bonnet and has a max torque speed of 1600 rpm. The Cullinan can reach speeds of 155 mph (250 km/h) — though no information was released on how many seconds the Cullinan clocks when going to 0-60 mph.
As is customary with a Rolls-Royce purchase, the Cullinan will also offer a number of bespoke options to suit the owner's taste.
"The super-luxury lifestyle is evolving and Rolls-Royce is in the lead. Luxury is no longer an urban concept. More and more it is about embracing and experiencing the wider world," said Torsten Müller-Ötvös, chief executive officer of Rolls-Royce.
The Cullinan is named after the biggest rough diamond ever found.  
"Cullinan is, you might know, the biggest rough diamond ever found, over 100 years ago, and that diamond now sits in the Crown Jewels of the UK. And we found it is a very suitable name for our car being, let's say, even a kind of diamond in the rough," said Müller-Ötvös.