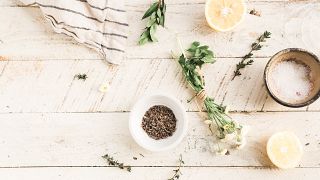 As soon as the clocks go back, there are changes to the skin's circadian rhythm. Changing our skin care routine to support this is a great way to ensure it looks great all year round," explains Dr Pauline Hili, founder of Nourish, a London-based organic skincare brand. But skin is just the reflection of what's going on inside your body... and mind. From smart nutrition to wellness rituals, super-ingredients and wellbeing tips, this is your beauty road map to summer.
PRACTICE DRY BRUSHING AND SELF MASSAGE WITH OILS
Either in food or in cosmetic oils, vitamin C is the winning ingredient to prepare your skin for tanning. It's a powerful antioxidant that will brighten up your glow whilst slowing down the aging process by promoting healthy collagen growth that is crucial for smooth, wrinkle-free skin.
One of the more convenient way to introduce more Vitamin C in your diet is to blend smoothies including fruits and veggies such as apricots, melons, carrots, apples… For a more refined yet easy-to-make option, try this turmeric tahini roasted cauliflower recipe courtesy of Shira Lenchewski, MS, RD, and author of The Food Therapist released in 2018.
The other way to bring it into your life is to indulge in daily dry brushing which will act on the lymphatic system (a network of tissues and organs that help rid the body of toxins, waste and other unwanted materials), followed by a self massage with oils. Anastasia, founder of Apoldine, a trendy botanical Parisian brand recommends Mongolia Sea buckthorn or Marula oil whilst Dr Hili will opt for orange, myrrh and neroli which are "energizing and improve vitamin absorption thus creating a reservoir of antioxidant for the summer months".
If dry brushing isn't your jam, therapist Michelle Roques-O'Neil recommends a weekly exfoliation with brown sugar and almond oil to slough away dead skin and draw out impurities.
Shop: Nourish, Argan Skin Rescue, €28 ; Apoldine, Mongolia Sea buckthorn oil €41, ; Inika, Rosehip oil €20 ; Asarai, Power Trip Oil €40.
INDULGE IN THE POWER OF PLUM, FIG AND COCONUT
Plums and coconut are two ingredients that have been flourishing in organic skin and hair care. Australian family brand Asarai's core is kakadu plum, a fruit which grows in the North and claims to be the richest plant form of… vitamin C. A mighty ingredient and "superfood" that has been used for hundreds of years by the Indigenous people of Australia for its medicinal properties to treat a variety of skin disorders, infection, reverse skin damage caused by UV-exposure as well as skin-inflammation and irregular pigmentation.
As for coconut, it is found in one of the most successful haircare product of 2018: The Like a Virgin Hair Mask , which has took Instagram by storm since its launch last January (60K followers already). Alongside fig, shea butter (moisturize), linseed (gloss) and argan oil (manageability), the mask promises to repair and protect hair using the power of 100% natural and organic ingredients. Co-founder Alex recommends using sulfate free shampoo and adding an egg to the mask. "As the sun can break down the keratin in the hair, it's important to use protein," she says.
Shop: Asarai, Ultralight moisture cream €40, Le Prunier, Plum Beauty Oil €60, Coco & Fig, Like a virgin €39, Ouai Haircare, Smooth Shampoo €25.
JUICE FASTING, OIL BATHING AND WATER MEDITATION
"A daily water meditation, is a wonderful way of focusing intention. I like to put some Himalayan Detox salts with Amethyst powder and essential oils in a foot bath. I add some Hematite crystals as they work to balance the adrenals, protective and grounding" describes Roques-O'Neil. "Choose an intention to focus on and begin with some deep abdominal breathing with each exhale released any old anxiety or negativity that prevent clarity. By taking positive steps like these they reset your mind and body for what's coming ahead." she adds.
For Anastasia from Apoldine, an "oil bath" is the ritual to nourish and soften hair thus preparing them for the beach: "massage the locks one by one to get all the hair oiled, then leave for at least one hour, or all night before rinsing thoroughly" she says.
"Wood is the element that influences this time, it rules the liver. A perfect time to detox and coax our sluggish bodies into action. A 3-days green juice fast or a liver flush are both marvellous ways of stimulating more energy." concludes O'Neil.
Shop: Therapie Roques Oneil, Himalayan Detox Salts €11 ; Apoldine, Coconut bath salt €45 ; Kiehl's Olive & Avocado Leave in Oil In Cream, €30