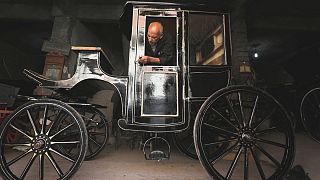 His grandfather served a king, no wonder Egyptian craftsman Aly Gaber remains loyal to the dying art of horse-drawn carriage manufacturing.
The workshop he owns used to be Egypt's main hub of carriages. Today it is overcrowded with dusty parts and primitive machinery, however, still builds custom handmade carriages from scratch to nostalgic customers and tourist attractions.
"The most important thing is quality in everything, the wood, the metal, and the coils have to be firm. There should be natural leather and good paint. A cart takes a long time to manufacture. Various hands are working with me, I am not alone," said Gaber.
The only available carriages on Egyptian streets are horse-drawn touristic carriages, namely 'Hantoor', or donkey-drawn carriages used to transport material cheaply.
Gaber now follows his family tradition but instead of building carriages for royalty, he now provides carriages for hotels and touristic attractions.
Writer: Doloresz Katanich with Reuters