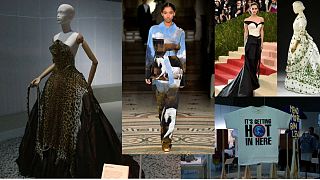 Copyright

Victoria and Albert Museum
A new exhibition at the Victoria and Albert Museum in London is dedicated to making changes — or at least inspiring them.
Some 300 fashion pieces are on display to explore the links between the natural world and fashion.
Plant life and animals have been an inspiration to designers for hundreds of years, and it's still the case even in the modern era.
A dress featured at the exhibition is from the 1860s and decorated delicately with the skins of real jewel beetles, which glisten beneath the museum's lights.
Aside from the fashionable pieces from big names and of natural history specimens, there are innovative new fabrics and techniques, as well as interactive displays hoping to get people to think about the consequences of waste.
Fashioned from Nature opens on April 21 and runs until 27 January 2019.
It is sponsored by the European Confederation of Flax and Hemp (CELC) and denim brand G-Star RAW.
Writer: Doloresz Katanich with AP