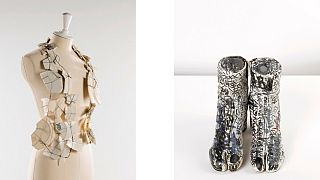 The name Martin Margiela evokes an air of mystery. While his work is notorious for defying traditions of Paris Fashion, the man himself remains invisible, choosing to forego photographs and interviews early on in his career. This season in Paris, however, the public is invited to a rare admission into the designer's universe.
From now until July 15th, the Palais Galliera in Paris is hosting a retrospective exhibit of the Belgian designer's work, spanning from 1989-2009. The exhibit draws from the Museum's collection, Maison Margiela's archives, as well as private collections from around the world.
Best known for his deconstructionist, avant-garde approach to fashion, Margiela once held one of his fashion shows in the most unexpected of places: a rundown kids' playground in the outskirts of Paris. The show went down in fashion history as a disruptive game-changer, using a setting the industry has never seen. There, the models wobbled on the uneven runway, and the front row was filled with kids from the local neighborhood.
Moreover, during this presentation, Margiela's collection was in direct conflict with the bold shoulders and extravagant silhouettes of eighties fashion. Defiantly, he presented a counter collection of frayed hems, ripped sleeves, and his signature Tabi boots, a split toe, chunky heeled shoe inspired by traditional Japanese socks.
"More than any other designer, Martin Margiela dared to follow his own vision, enforced by his incredible talent for tailoring. He never compromised with the fashion system," says Alexandre Samson, exhibition curator.
Indeed, Margiela's refusal to follow the fashion status quo was what separated him from all the others. As a deconstructionist, his design concept was a sort of "undoing" of fashion's rules.
At the exhibit, one can expect to see a collection inspired by the Stockman dress form, complete with exposed linings and unfinished parts, revealing what the garment would normally look like during its preparation process in a seamstress' workshop. Though 'unfinished', Margiela managed to recognize this stage in production as valid articles of clothing in its own right.
His specialty in tailoring gave new twists to old garments; he often re-worked vintage pieces to give them an updated shape. He once repurposed old theater costumes in men sizes and accommodated them for women's wear.
His signature method was upcycling, a practice of taking salvaged pieces and making something new out of them. At the exhibit, visitors can discover his 'Artisanal' collections made out of upcycled creations. One of his most clever items is a sweater top created entirely from white tube socks, a piece that invites a DIY practice, "inviting women to imagine herself as the author of her own garment", as the exhibit says.
Visitors will also see a vest made of porcelain plate shards and secured with metal wire, and a cloud-like winter coat made from down comforter blankets. He often re-used wine and champagne corks as necklace pendants, and created an entire collection of dresses made from old scarves.
But keep your eyes open for the most remarkable upcycled creations of all: a black top made from a patchwork of old leather gloves, and a multi-color top made entirely out of reclaimed brand labels and tags.
According to Samson, "These repurposed items and clothes immediately questioned the notion of mass consumption of fashion, which [Margiela] was the first to do,"
Though he remains the 'man without a face', his impact on fashion is everlasting.
See more information about the Martin Margiela Retrospective in Paris here.
Writer: Ruby Veridiano