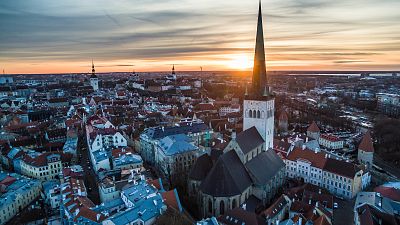 -
In the movie Wag The Dog, a fictional US president declares war on Albania to detract attention from a sex scandal that's threatening his re-election. It's a parable about how the powerful sometimes whip up the people into a frenzy of nationalistic fervour and – for those who know their history inside out - it's not as far from the truth as one imagines.
We in Europe especially seem poised on a precipice where nationalism is being stoked up again by shadowy forces unseen. And it's this premise that informs The State Is Not A Work of Art, a new art show in Tallinn, Estonia, which investigates nations, ideologies, capitalism, histories and citizenship.
Toulouse-born Stephanie Lagarde's video of the Patrouille de France, the French Air Force Aerobatic Team, is intriguing. Tanja Muravskaja is a photographer from Parnu and her photos (she's previously exhibited nudes draped in Estonian flags) of Nato soldiers and Estonian girl scouts are accessible accounts of the state and its strange power.
The slippery notion of citizenship is also delved into: Thomas Locher's giant cubes are printed with words and phrases and sit next to parts of the United Nations Universal Declaration of Human Rights. When you enter the show you're given a lanyard with a random citizenship on it. I was Angolan for the day. This is part of Amsterdam-based Femke Herregraven's Liquid Citizenship work, which also includes 'boxes' of citizenship as if for sale in a department store. It's a neat questioning of what citizenship involves in the modern world. Daniela Ortiz's piece meanwhile uses the model of a child's ABC reading book to probe Europe's racism.
Estonia's 100 years celebrations
It's no surprise that the show at Tallinn Art Hall, curated by Katerina Gregos, forms part of Estonia's 100 years celebrations. This cultured city also has its incredible Tallinn Music Week coming up in April (with an art programme by the Estonian Contemporary Art Development Centre). There is a bespoke 100 logo placed on lampposts all around the Estonian capital to remind everyone of the anniversary's significance to this proud and progressive nation, whose smallness makes it all the more keen to assert itself. But wannabe Estonias, from Catalonia to Scotland come under the microscope in another exhibit at the show by Rotterdam's Jonas Staal – which visually depicts the logos of Europe's alternative new political parties that are mostly left leaning, green, pirate and such. And shows a video depicting gatherings in the context of Jonas's project where the focus is on imagining new more democratic, more inclusive futures for the EU.
Estonia has had to wrestle with its own turbulent history and this cold country is constantly thinking about which level to set the heating of its own nationalism at. It recently opened a new national museum on a former Soviet air base in Tartu and a new permanent exhibition opened on Feb 15 at the Estonian History Museum's new site at Maarjamäe Castle on the shores of the Baltic, which traces the modern history of the country and has the thought-provoking title My Free Country.
While in April, the garden at the castle will finally open – this space has been home to Soviet-era statuary since they were moved here from storage last year - and soon the Lenins and Stalins will have people Instagramming them up close. Interestingly, this new site is right between the seemingly polar opposites of the sublimely weird Russian War Memorial and the modernist Estonian Song Grounds where thousands gather to sing Estonian folk hits.
Francis Fukuyama may have claimed it was the end of history when the Berlin Wall came down (it has now been down longer than it was up) but the truth is things are always in flux. Outside Tallinn Art Hall there's an unrelated exhibition of photos about the forthcoming 2022 Winter Olympics in China and stalls serving steaming spring rolls and wind up dog toys for a Euro. China is very literally knocking at Europe's door.
Tallinn on a winter day in 2018: it all makes you think about where you're from and what that actually means (if anything?) Maybe the most important take home is simply that we can discuss these things freely – and crucially with people of different nationalities.
Freedom and fairness are things we need to achieve - for everyone. To be friends with foreigners is to live a life of much greater meaning. At the exhibition opening and afterparty at the beautiful neo-1960s Pegasus restaurant (appropriately a writers' haunt) I speak about the issues surrounding the show with people from Greece, Russia, Latvia, France, Holland, Estonia, Sweden, the United Kingdom, the United States. If ideas effectively hold us together now, borders should never split us apart.
Chris stayed at the Hotel Telegraf, a part of Autograph Collection.
More information Estonian Contemporary Art Development Centre and Visit Estonia
Writer: Christopher Beanland