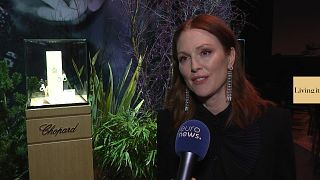 "Where is the gold from?"
That's what Livia Firth, founder and creative director of Eco Age, asked Chopard's co-president Caroline Scheufele many years ago over a cup of coffee.
It's this moment, Scheufele says, that led to the Swiss family-owned luxury company announcing it pledged its commitment to using 100% ethical gold as of July 2018.
Colin Firth, Julianne Moore, and Arizona Muse endorse Chopard commitment to use sustainable gold
The announcement came in the presence of long-term friends of the company, not only Colin and Livia Firth, but also Julianne Moore, models and activists Arizona Muse and Noella Coursaris, and Chinese singer Roy Wang — who were all there to celebrate on the opening day of Baselworld Watch and Jewellery Fair.
Ethical gold, acquiring from responsible sources, is not as easy as it would seem. Many years of work was needed to reach this goal, while Chopard has been directly investing in artisanal gold, and directly supporting a number of small-scale mines to achieve Fairmined certification. These communities can sell their gold at a premium price and make sure that their work meets strict environmental and social requirements.
Scheufele says, "Well, in the case of the two mines that have been certified, the first ones in Colombia and in Bolivia, that we support, we ensure that we buy all the gold that they extract so they are sure that their gold is sold and the price is sort of fixed. The cost of it is maybe 5-10 percent more, but we as a company absorb this so the consumer does not pay more. for the piece of jewellery or the watch. But it gives the miners the possibility to organize their lives to send their kids to schools, to universities and it can be done."
It is estimated that gold mining provides the livelihood of up to 100 million people, the majority of which work for artisanal or small-scale mines. Many of these people work in hazardous conditions with highly toxic chemicals such as mercury — and the industry is often linked to child labour and inhumane working conditions. (Hundreds of farmers were poisoned by a mercury spill in the mountains of Peru; Akyim indigenous people from Ghana were forced from their forest homeland).
Gold Jewellery: "This industry is notoriously non-transparent", Livia Firth from EcoAge
Companies on the other side of the chain face challenges when tracing their sources due to a big lack of overall regulation and general standards, as creative director of Eco Age Livia Firth pointed out. "Well, this is an industry, this is notoriously non-transparent, it is very difficult to trace the raw materials, and notoriously unethical. And I think it is one of the few industries left where there is no regulation or not much," she added.
Making more and more "clean gold" available, there are NGOs and different certification labels, such as the Fairmined gold, which is accredited by the Alliance for Responsible Mining, a partner of Chopard.
The company unveiled their next step, too. Chopard will aim for the UN Global Goals, with a 17-point plan laying out social and natural capital goals. The luxury company will go into the field and measure the impact of their contributions.
The Fairmined gold Palme d'Or award crafted by Chopard
The company has already been using Fairmined gold in many of their creations. One of the outstanding examples is the Palme d'Or award, which has been crafted by Chopard from Fairmined gold since 2014. Actress Julianne Moore has one at home, too. The Oscar-winning actress told Living it about what everyday people can do to find out if their jewellery is ethically sourced — and it makes a difference for her.
The Swiss jewellery and watchmaking company already has plans to go further. "Our challenge is to do it in more areas, with the gemstones — and my challenge also is to lobby maybe some Swiss banks or our colleagues to do the same", said Scheufele,
"After all, our planet is the most precious gemstone," she said.