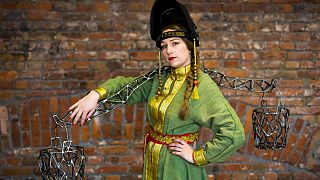 With a single welder and unlimited imagination, Russian modern artist Alexandra Ivleva has made an impression with her interactive creations.
She got the talent from her father in what was once considered a predominantly male craft.
She is a professional welder who creates sculptures and has even presented her own solo exhibition in Moscow.
With works such as "Handbags for Strong Women" and "Boobs", many of her objects seem to contain messages for women — and some women say they feel empowered and inspired by them. Ivleva herself says her work has nothing to do with feminism, saying she gives an "ironic examination of social stereotypes and common values", according to her website.
Ivleva says her work is simply a way of expressing herself through doing what she loves.
"Everyone has a choice of what to do in their life, whether to prove anything to anyone or not. I think that the internal feeling of calm, when you feel comfortable yourself being a woman and when you understand all your strong or weak sides and you do what you love in your life, that all gives you that feeling of harmony which allows you not to prove anything to anyone," she says.