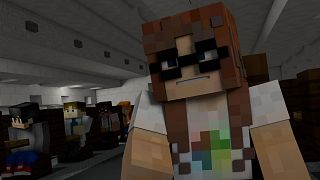 In Derry-Londonderry, Northern Ireland's second largest city, the Playhouse Theatre looks down on 400-year-old defensive walls that encircle the city centre. As the only intact walled city in Ireland, and one of the finest examples in the whole of Europe, Derry has always attracted history buffs keen to peer through ramparts and have their photos taken on decommissioned canon pointed outward.
In 2017, however, a whole new demographic have been booking hotel rooms as the three-story Playhouse Theatre – a multi-functional arts centre on Artillery Street, which was restored to state-of-the-art status in the mid-1990s – prepares to host a world first: Playcraft Live, an innovative production that sees actors and their corresponding digital avatars perform simultaneously on stage and within the popular video-game world of Minecraft.
"We are introducing something completely new to the world of theatre," says director Kieran Griffiths, who hails from Derry and has observed its transformation into a vibrant digital tech capital in recent years. "We're bringing together two artistic universes, and we cannot wait to unveil the production to the people in the theatre and the vast online Minecraft audience."
Playcraft Live premieres in the Playhouse from 7pm on Saturday, October 14, and will stream live on a dedicated website. It is a cutting-edge of 21st century production that has long since sold out, such has the interest been from art, tech and gaming communities across Europe and further afield.
Commissioned by The Space, a digital platform funded by the BBC and Arts Council England, Playcraft Live is a collaboration between the Playhouse Theatre, creative producer and Minecraft specialist Adam Clarke, and Derry-based digital educators Makematic, who have offered bitesized educational content designed around Minecraft since launching in 2016.
"With Playcraft Live, we wanted to find a way to connect young people to theatre and creative practice using technology," explains Makematic co-founder Mark Nagurski. "Minecraft offered a platform where young people already understood the language and felt comfortable exploring and experimenting within it.
"Our role has been to help bring what's being built inside Minecraft out of the game and make it accessible for everyone to engage with. With that in mind, we've worked with a variety of creative professionals and popular YouTubers to develop 'behind the scenes' videos that help the audience to engage with the development of the play."
Indeed, the entire build up to Playcraft Live has been programmed and structured around the concept of interactivity, with established Minecrafters, popular YouTubers and other creatives invited to input on costume, set and avatar design, storyboarding, scripting and more, ultimately feeding into the look and feel of the final production.
The play was written by acclaimed Young Adult author Alex Scarrow, whose bestselling TimeRiders series has gained the English author an international audience, and fans will be pleased to learn that Scarrow's original story takes place within the TimeRiders universe itself, in the space between books one and two.
Onstage and within Minecraft, familiar characters Liam, Maddy and Sal strike out on a Neolithic adventure. Scarrow is excited to be involved in a "genuine world first", and hopes his readers will put down their books and venture online, if only for a short while, when Playcraft streams live.
"While we will be switching from the stage in Northern Ireland to the virtual world of Minecraft, the characters will also be going back and forth across 11,000 years from the time of the caveman and woolly mammoth to modern-day New York," Scarrow divulges.
"It's quite the head-spinner but Playcraft Live is an ambitious and exceptionally exciting event and I can't wait to see my characters come to life on stage and inside the world of Minecraft."
Designed by Swede Markus 'Notch' Persson, Minecraft is the second-best-selling video-game of all time, and enables players to build constructions out of textured cubes and take part in exploration, engineering, crafting and combat. As of February 2017, it had sold 121 million copies worldwide.
"It's a creative space that you can actually engage with," adds Nagurski, who introduced many school children in Derry to Minecraft as former director of the now defunct CultureTECH festival. "Minecraft gives young people the tools to create whatever they can imagine and then invite others to explore those creations too. There aren't a lot of ways that you can express your creativity in this kind of shared, interactive way.
"For everyone involved in Playcraft Live, being able to open up the creative process and let people peek behind the curtain is really exciting. The creative team still need to drive that pre-production process – it's not about crowdsourcing your answers – but the process has given us a perspective that we'd never otherwise have had."
You can watch the play live online on Saturday 14th October at 7pm UK time.
By Lee Henry