What does your perfect bespoke yacht look like?
It can be a sad thing, coming to terms with reality. First it was that Father Christmas, good ol' Saint Nick isn't real; then it was that I just didn't have the hand-eye co-ordination for tennis. Finally came the realisation that I would never own a Superyacht. The worst aspect however is when you come close to the real thing but not quite – which is precisely what the objectively phenomenal Heesen Yachts submitted me to.
It's easy to assume that a yacht is a yacht is a very big yacht. Surely the owners can't have that much say in how it's built? I can't ask for a hot tub in my Rolls-Royce after all. Yet when Heesen invited me – and a few others of course – to a workshop run by designer Clifford Denn, they proved me very wrong indeed.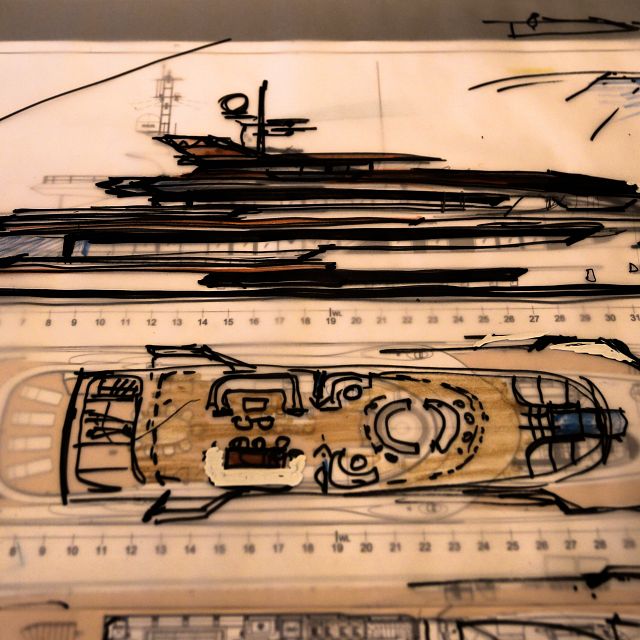 The format involved a little bit of role-playing. A fellow journalist was to be the yacht owner and I was to be her husband, the rest of the group our extended family and future captain. I was fine with that; there's something appealing about being a kept man, especially if I get a yacht out of it.
The first thing to decide was the overall shape of the yacht. It's surprising just how much variation there is, whether you want something like a 1920s steam cruiser or one that makes todays cutting-edge power yachts look like a rubber dingy. We went somewhere in-between, a classic sloping silhouette but in the opposite direction.
There were plenty of reasons. My wife for a day wanted to make the best use of space; I just wanted something a little more individual. I forget what the rest of the family wanted. I didn't really care. Who listens to their sister-in-law when it comes to yacht-building?
The next stage was thinking about what we actually wanted on board. This is when reality comes calling even in hypotheticality. A three-floor atrium library sounded spectacular but given our restriction to a 50m yacht, used up far too much space. We could only fit a single pool on board as well which is a travesty.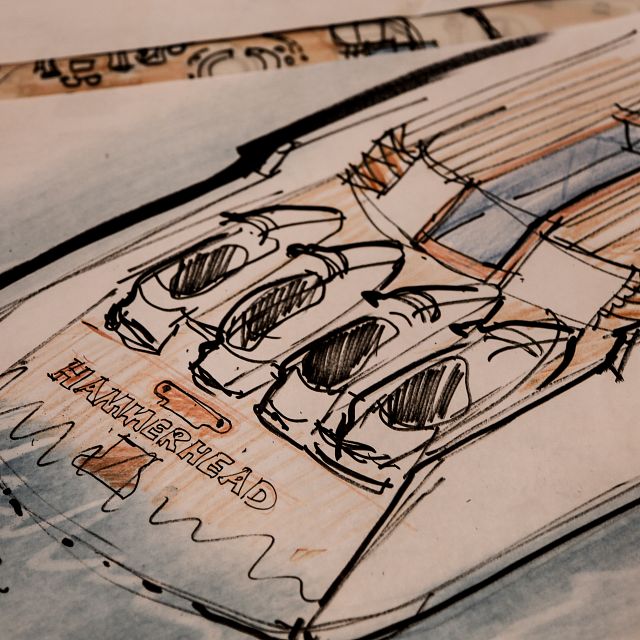 I did though manage to convince my wife of the necessity of a pub. I don't mean a normal bar – we'd planned one of those on the top deck, along with a dance floor and space for a DJ. I mean a traditional pub, complete with draft beers and a dart board. We'd be the landlord and lady of the marina.
When our faux daughters finally got through our own thought-processes it was to ensure we had all the water toys they could want. Unfortunately for them, walk-in wardrobes each were out of the question, but we did add an armada of four jet-skis at the rear.
This is where our designer really came into his own. He had been drawing our ideas the whole while of course, usually telling us what was ruled out. Here though, he devised on the spot a system of releasing all four jet skis in one go down a ramp – think nautical horse racing stalls.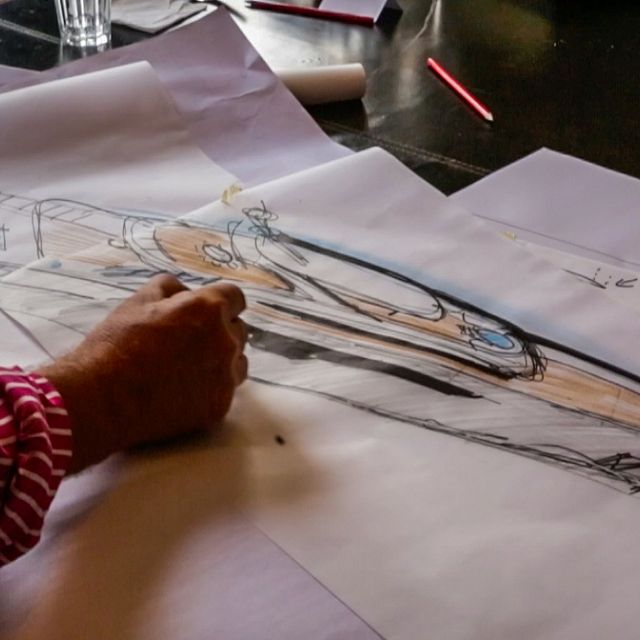 On a more technical note – and taking my insipid need to stand out to heart – he added what he called hammerhead wings to the bridge. Out captain was happy with that little addition; the wings would allow him to get a better look over the sides of the yacht. That said, the way he was talking to my hypothetical daughters, he wouldn't last long.
Finally the name. We decided to take a cue from the silhouette and dubbed it the Hammerhead – and the pub, obviously, the Hammered Head – a yacht that came to life under Clifford Denn's hand. Deep down I knew it would never become a reality, knew that I'd never pull a pint miles off shore, but for those bare minutes it seemed within grasping distance.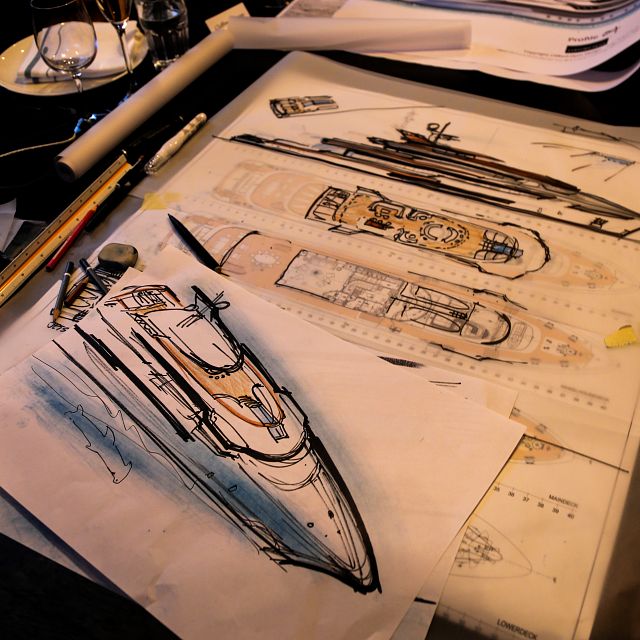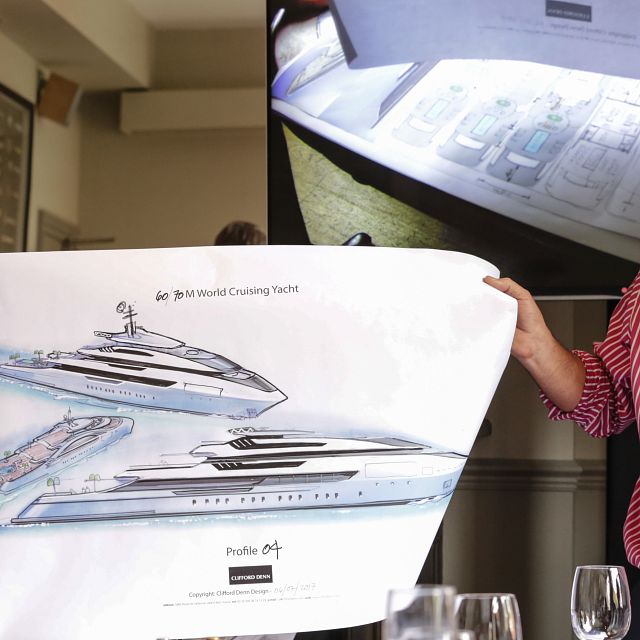 Alas I didn't get a goody bag with the keys to a yacht in it, but it did give me a new insight into, should I ever win a row of lotteries (or married into money), what my ideal yacht would be. As you can see from the sketch, it would be awesome.
Writer: Sam Kessler