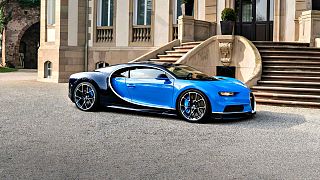 "Chiron has driven a new world record for Bugatti" – announced Bugatti President Wolfgang Dürheimer at IAA motor show in Frankfurt.
Former Formula one driver Juan Pablo Montoya recently joined Bugatti for a special ride to break a world record: he took the Bugatti Chiron from 0 to 400 km/h and back to 0 in just 41.96 seconds.
It took 32.6 seconds to reach 400 km/h and 9.3 seconds (and a G-force of 2 g) to stop, covering a distance of just over 3 km.
"Up to the present day, this is the fastest time reached and officially measured for this driving maneuver throughout the world" – said Mr Dürheimer.
To date 300 Chiron cars of a total limited production run of 500 vehicles have been sold, the first cars were delivered to customers by March 2017 and up to a further 70 cars will be completed by the end of this year.
The car's technology limits its top speed for street driving – to 420 kph, however, Dürheimer says that Bugatti has ambitious of even greater speeds, hinting at 450 kph and invited Montoya to return in 2018 for another world speed record attempt.