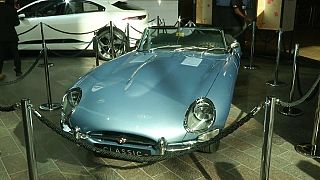 Jaguar Land Rover has become the latest car maker to announce it will soon make only fully electric or hybrid cars.
The move, to come into effect from 2020, was announced as the UK-based company presented a modern take on its 1960s classic Jaguar E-type. The new model, called the E-Type Zero, is all electric.
Tim Hannig, Director of Jaguar Land Rover Classic said:
"We look at two different trends that we see. One is environmental protection, we see increasing areas where combustion engines might be banned in future, so it would be sad not to see these vehicles anymore. And the other element is we see lots and lots of people who love classic cars, but they do want the different level of convenience, they don't like leaking oil, they don't like fiddling with carburetors.
The E-Type Zero is said to have a range of 270km and six to seven hours of battery power when fully charged.
Electric cars are increasingly in demand. The UK and France have said they'll phase out sales of petrol and diesel cars by 2040, while Scotland is aiming for 2032.