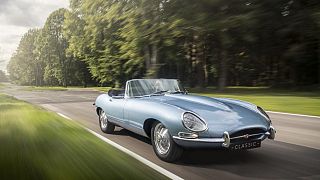 Past and future are holding hands at Jaguar Land Rover as the company has just re-launched its iconic E-type 1968 with a twist: it comes complete with electric engine. The unveiling came at the company's inaugural Tech Fest event in London.
– "We are future-proofing our heritage," says
JLR
CEO
Ralf Speth.
As environmental protection is becoming an everyday practice, the company wants to make sure that 'the E-type will still be on roads', as well as serving those interests who love classic cars but 'do not feel like fiddling with carburetors and leaking oil' – said Tim Hannig Director of Jaguar Land Rover Classic.
The new E-type zero is based on the 1968 series 1.5 roadster and boasts an electric powertrain that zips the classic-looking chassis from 0-60 miles per hour in 5.5 seconds.
However, JLR also has good news for traditionalists: it hasn't gone overboard on modifications, so the electric engine could simply be taken out and swapped for a combustion one.
For all other fans of the E-type, from now on zero emission cities are open to the classics.
JLR also showcased its vision for the car of 2040 and beyond. It's called the "Jaguar Future-Type" and at its centre is an intelligent steering wheel, named 'Sayer', which acts as a portable controller for various tasks. The virtual concept focuses on mobility for the connected world of tomorrow, where vehicles could be shared not owned.
It has also been announced that from 2020 all new Jaguar Land Rover vehicles will be electrified.