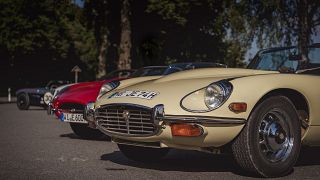 What's the connection between a fun classic car run south of Frankfurt and one of 2017's most intriguing newcomers – the Kia Stinger? Well, South Korean car giant Kia Motors' 35-strong team of European designers, led by Chief Design Officer Peter Schreyer, are based in Frankfurt, and every year they stage a special drive day.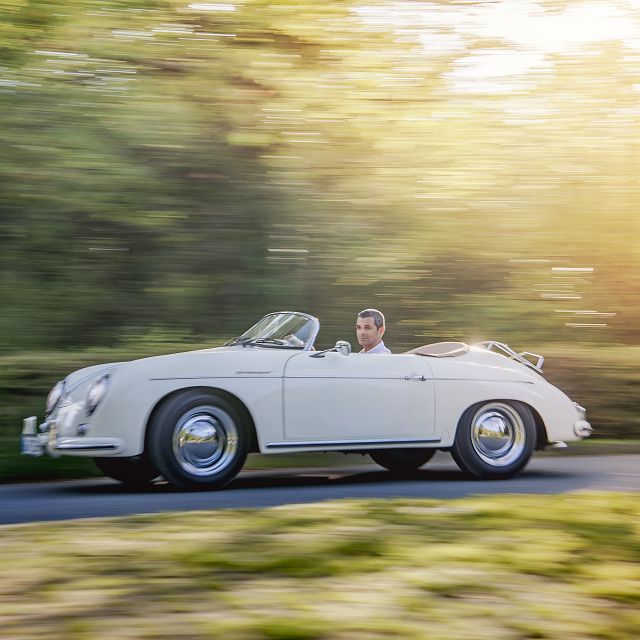 Gareth driving the Porsche 356 Speedster. Credit: Andy Morgan
Nicknamed the 'Kia Miglia' (after the legendary Italian road race) the team either take their own cars or hire classics especially for the occasion. Living it was invited along to this year's event, which involved a 250km drive along autobahns and winding country roads through three states, taking in spectacular landscapes and huge forests. Our wheels for the day were two classic German convertibles – a Karmann Ghia and Porsche 356 Speedster.
The eclectic range of vehicles on the run included everything from an 85-year-old Austin Seven Ulster, to a couple of Jaguar E-Types, a BMW 3.0 CSL and a Renault 4, while a few modern sports cars, such as a two Alfa Romeo 4Cs, a Lotus Elise and a Porsche 911, were also allowed to interlope..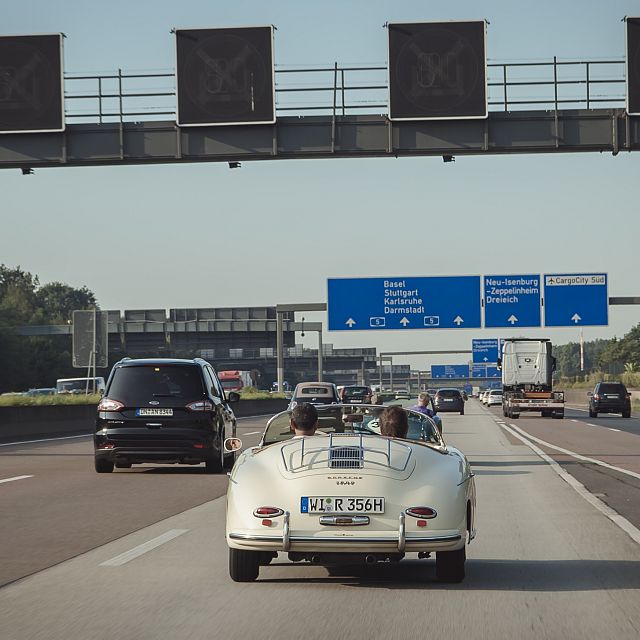 Credit: Andy Morgan
Kia Miglia was also the perfect opportunity to talk to Gregory Guillaume, Chief Designer of Kia Motors Europe, who brought along his immaculate Austin-Healey 3000 Mk1. Naturally, he's particularly proud of the Kia Stinger, which is due to go on sale later this year, because it evolved from his team's dramatic 2011 GT concept car.
"It's been a long journey to get to where we are today, starting with the concept car show at the 2011Frankfurt Motor Show," explained Gregory. "We had to convince everybody at Kia that the time was right to bring out such a car and to make sure that everything that was important about the concept survived into the production car".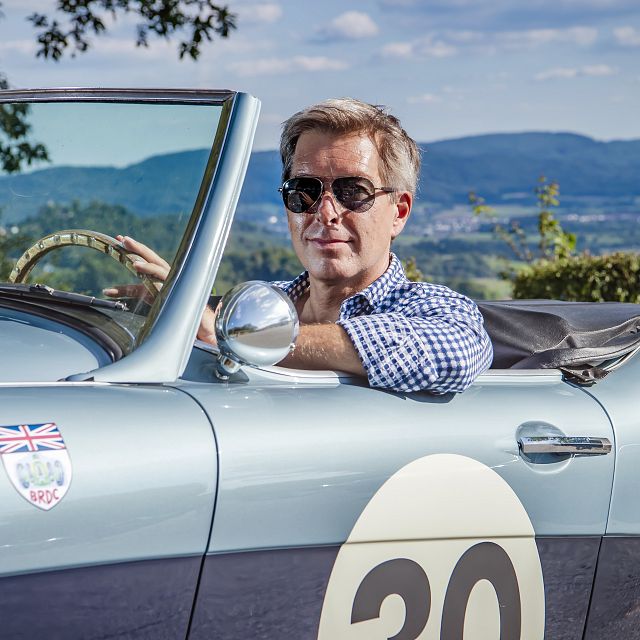 Gregory Guillaume. Credit: Andy Morgan
"It's still the gran turismo idea that I had… this vision of those cars that I used to see as a kid on the motorways of France, whizzing from Paris to the Cote D'Azur in style." Gregory says there were many cars of that era that inspired him, but none more so than the first Maserati Ghibli, designed by the great Giorgetto Giugiaro in the 1960s. "There was nothing really special about its design, but when you see one it's so elegant, simple and clean – so pure."
Powered by three diesel and petrol engines, including an impressive 365bhp 3.3-litre twin-turbo V6, the 2017 Stinger is endowed with muscular, head-turning looks, while its driving dynamics have been honed at the Nürburgring no less.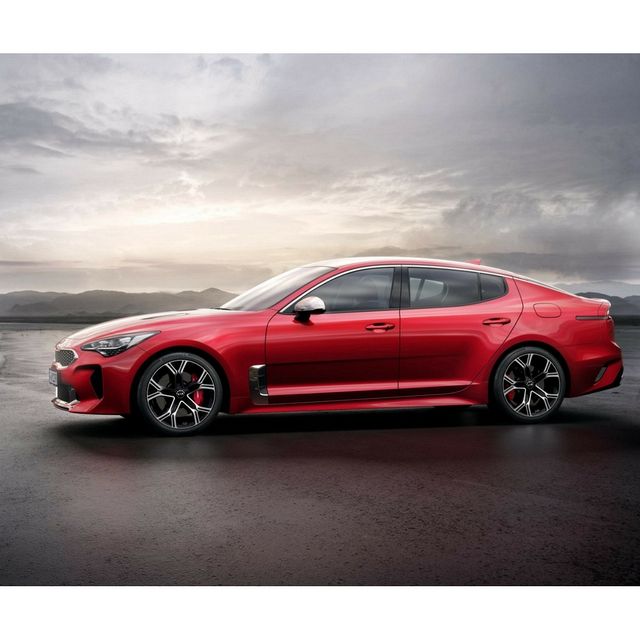 2017 Kia Stinger. Courtesy of Kia.
The Stinger also marks a new phase for Kia. Not only is it the highest-performance production vehicle in the company's history, but it represents a move upmarket, pitching the sports saloon up against formidable premium rivals from the likes of BMW, Audi and Jaguar. So what makes the Stinger so special from a design point of view? "For us it's always about proportion – especially in a gran turismo," adds Gregory.
"The front engine, rear-wheel drive package our engineers gave us enabled us as designers to really go for it. We were able to get those beautiful proportions by pulling the cabin all the way back, creating a long bonnet and fastback silhouette. It's really a dream come true – it's like Christmas for us."
The Stinger is a traditional car, but Gregory's also only too aware of the dramatic changes the automotive industry faces. "At the moment everybody wants to hear that the future is electric. I don't think there's one manufacturer than isn't working on electric vehicles. Yes, electric cars present challenges for designers, but with any challenges there are also opportunities. Theoretically, the layout of an electric car can be different to one with an internal combustion engine, but it doesn't have to be. Just look at Tesla – you can't tell from the outside that it's electric."
If the Stinger goes as well as it looks and its name suggests, Kia may well be onto a winner – ironically socking it to the Germans in their own backyard.
Writer: Gareth Herincx.
Follow Gareth @garethherincx