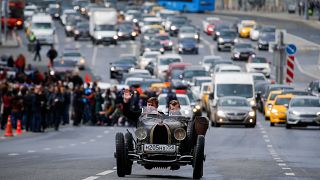 Moscow residents had an opportunity to immerse themselves in the automotive history last weekend, as vintage car fans gathered in the centre of the Russian capital to show off their vehicles.
L.U.C Chopard rally organised by the watch-maker is an annual event which started in 2003. It was created to bring together drivers and their unique forms of transport.
Cars from various countries produced before 1976, some almost a century old, were presented to the public and the owners told the people about the vehicles' provenance. The oldest ones were Renault EF and Mercedes Benz 22/50 Faeton in 1914. Later vintage cars merged with the traffic to drive across the city.