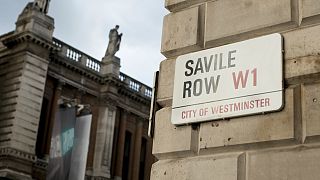 We were lucky enough to be given a guided tour of London's famous menswear district of Jermyn Street and Savile Row by industry insider Eric Musgrave.
Eric is a menswear journalist with 36 years of experience and a particular interest in the luxury side of the industry. He explained "luxury is a word that is inappropriately used. Today what we have seen is true luxury. Bespoke is true luxury."
Eric's tour of the oldest bespoke gentlemen's outfitters aimed to showcase the best of British tradition and demonstrate what luxury truly is, rather than the high-end designer brands that have a luxury price tag but are not real luxury. The below is a selection of the amazing institutions we were able to visit, with explanations of why they survive today.
Lock&Co, the oldest hat shop in the world, is the go-to location for bespoke hats. There are only two businesses in the UK that are older, one of which is sadly in the process of closing down. Apart from the carpet and electric lighting, the shop interior has not changed in over 180 years. Since 1765, Lock&Co has been in the same position in Central London and now possesses two royal warrants. The shop and the experience it provides aim to maintain traditions and knowledge that have been passed down over hundreds of years.
Unlike most milliner, all types of hats from the panama to the top hat, are available all year round in nine different sizes. This is because customers for Lock&Co come from all over the world and are liable to jetting off on holiday at any point.
The shop is also well known for its bespoke hats, and a strict process is followed to make sure the product is perfect for the individual. Using a conformateur to take a perfect head measurement, the hatters make a block in the shape of your head. In a back room, there is not only the Queen's head block proudly on display, but an exact replica of the hat Lord Nelson wore for the Battle of Trafalgar. His designs and measurements are displayed in a ledger next to the hat.
Next on our list was Foster & Son's, "The shoemakers' shoemaker." Similarly to Lock&Co, they offer a selection of ready to wear and bespoke men's and women's shoes, and are London's oldest shoe and boot makers. The ready to wear shoes are classic styles, from brogues to loafers, and come in a variety of different types of leather and suede.
Upstairs, the workshop where the bespoke shoes are made was in full swing, and we were walked through different parts of the process. When a person comes to order bespoke shoes, a 'last' is made. This is an exact model of each of their feet, handmade out of beech wood. Simply making the last is a whole day's labour, and is the job of only one person. Next, a different craftsman cuts the pattern. To begin with, it is cut out of paper, by hand, and then replicated in the leather. The soles of the shoe are also attached by hand. The entire process dates back to the 1500s.
For a standard pair of Foster & Sons bespoke gentleman's shoes, the cost will be around three and a half thousand pounds. For anything more unusual, or for a pair of boots, the cost will be far more. John Spencer, a last-maker in the workshop, explained: "the whole process has become more accessible. Young people are buying the shoes more and more as they are seen as a worthwhile investment."
Henry Poole & Co is the most prestigious tailor on Savile Row, and has been referred to as the 'founders' of tailoring on the street. Similarly to both Lock&Co and Foster & Sons, Henry Poole & Co has clients around the world, but everything is made in the basement workshop in Savile Row.
The walls of the reception area are covered from head-to-toe in historic warrants from Royals from all around the world, including Napoleon the Third and Ethiopian King Haile Selassie. In total, they hold 40 Royal warrants, which is the world record. Henry Poole & Co were the original designers of the Tuxedo jacket, and a replica of the first version they ever made stands in the waiting area.
Henry Poole & Co used to employ 300 to 400 tailors, but over time, it has been more of a struggle, and they now employ a tenth of the original number. Each client is assigned a tailor, who holds all of their fittings (around 3), so that the two can build a relationship for the future. Taking about 10-12 weeks from start to finish, a standard two-piece bespoke suit will set the customer back around four and half thousand pounds. A waistcoat will take the price to five thousand. Any unusual specifications will raise the price dramatically, including using a fabric made with Jade, Black Pearl or Sapphire. The most expensive garment they have sold recently was a Vicuna overcoat for twelve thousand pounds.
When asked how they have managed to stay alive in an era of fast-fashion, Sales Manager Anthony Rowland answered that "timelessness is key; you'll never be in fashion, but you'll never be out."
Hilditch & Key were the last stop on our tour. Having been shirtmakers since 1899, they have an established client-base of clients worldwide. Differing slightly from the other shops we visited, Hilditch & Key work on a made-to-measure, rather than totally bespoke basis.
Measurements for the shirts are taken in the shop in London, and then the shirts are sent to Italy to be made. Hilditch & Key work with around 20 different colours and a vast variety of different fabrics and alter the shirts to your body shape and posture to try and counteract any inequalities and make you look your best self. The shirts cost between £235 and £285 but a first-time buyer must order at least four, making sure it's a worthwhile investment of time for both parties.