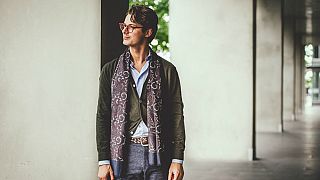 The stylish man you want to be
Lapo Elkann. The Duke of Windsor. Luca Rubinacci. Tom Ford. Steve Mcqueen. All of these men are real Alphas. They command respect wherever they go, they don't give a damn what you think, and aside from their attitude to life, they have one thing in common: style.
These men have defined their own style and in turn, have enhanced their confidence and masculinity. They are the ones who aren't afraid to stand out, who guys respect and girls swoon for. You might see them from a distance, walking through a cobbled European street somewhere, or jumping onto their yacht in Monaco.
You might catch yourself thinking "I would love to know how they do it." In which case I'm here to identify the key characteristics on how you can begin your journey. You never know – you might learn something new.
As someone who has made the pursuit of style a profession, I will explain what I believe to be the steps the average guy can take to achieving true style.
Step 1: The journey to true style
First, you must realize that achieving true style is a journey. The beginning is tough. You will question yourself and your style choices. You will require a willingness to open your mind and try new things. Patience is needed while you do your research, throw out the old and slowly reconstruct your wardrobe. You will need to resist the temptations to join your mates diving in to H&M for that new collab' blowing up on instagram.
Care has to be taken to deliberately break the routine of buying stuff without first carefully considering the purchase. Keep your eyes on the prize. Soon you will be well on your way to achieving that elusive stylishness which is so coveted and respected.
Step 2: Recognise your desire to make a change, and dive in
In order to achieve your goal of true style, you must recognize that a change has to be made. Achieving true style isn't usually something you can ease into. During this step, if you have attachment issues, you might need someone to help you out.
So suck it up and throw out that battered plaid shirt you've worn for 10 years. Donate the jeans you're keeping for that unknown day you'll fit into them again. Burn anything from the '90s. Owning 3 beautiful t-shirts is better than owning 30 average ones. So cull until all you have left are the basics.
Think: If I only had one shirt, one pair of jeans, one pair of shoes, what would I need? Only then you can begin the "slow build," buying only beautiful, high quality and unique pieces.
Step 3: Do your research
I have dealt with many successful people in my lifetime, and almost all of them have the same obsessive desire to know everything about any important purchase they make.
Be it a new Porsche, an investment property, or a business to add to the portfolio. You should also apply this mindset in the case of true style. You must start reading books, articles, and searching out the style icons you can garner inspiration from. Ask questions like: How should a pair of jeans fit? How are high-quality shoes made?
Why does that $4000 suit look way better than the $400 one sitting in my wardrobe, and how can I find an affordable one that looks just as good?
Once you begin to read into topics of fit, form and finesse, you also begin to realise that your favourite pair of denim jeans actually could fit better. Your T-shirts could be of better quality. You might begin to realise that you prefer "tapered" instead of "slim," and small nuances in design will appeal to you more than others. And so you begin to open your eyes to the world in which you can truly enhance your image.
Step 4: Buy carefully
Once you've done some research, you will now have a broader understanding of how clothes should actually be worn. Your research will give you knowledge of how garments are made, how they should fit, and the colour tones that should work for your complexion and lifestyle.
Once you have tuned your senses to the details around clothing, you'll begin to notice that some of those influencers and famous people you once revered actually dress poorly. You will begin to remove the hype factor from fashion, and see through the bullshit. This allows you to focus on the substance of clothing and your personal taste. Armed with this newfound knowledge, you'll be ready to begin making some carefully planned purchases and in turn build your new truly stylish wardrobe.
Take your time working through the process. Try that blazer on. Imagine what you'll pair with it, if it suits your skin tone. Is the fit right? Where and how is it made? Is it a timeless design that you can wear for years? If it ticks the boxes, buy it. Look after it. Wear it until the sleeves begin to fray. Repair it. Wear it more.
Step 5: Resist your peers
Once you detach yourself from the trap of hype and fashion, inevitably your careful style choices will be challenged by your friends and family. "Where did you get those shoes? I've never heard of that brand before. You should have bought these Adidas collabs, bro!"
Resisting this social pressure is an important step in defining confidence in yourself and your style. It can be hard at first to hold your own when challenged by your peers, especially if your partner and your friends have strong, imposing personalities.
My advice is to just take the criticism, shrug your shoulders and say "I like it this way." With this approach you give them no grounds to argue the case of why your new shoes aren't as cool as theirs. Keep resisting in a passive way, and in theory your peers will eventually accept that you have your own style. Who knows? Maybe you'll influence them to find theirs, too.
Links recommended by Steve Calder
If like Steve Calder you wish to share your vision of style and sartorial inspirations, connect with Living it on social media and use our hashtag #livingitluxe to be published.
Steve Calder is a Melbourne-based entrepreneur, tailor and style influencer (@stevecalder) inspired by the Neapolitan gentleman. With over 10 years in the menswear industry, he has garnered a passion not only for Italian-inspired sartorialism, but also for sincerely looking after his clients. He chose to work solely with family owned and run businesses using the best materials.