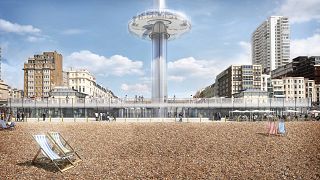 "Our inspiration for the British Airways i360 – the world's tallest moving observation tower – was the original nineteenth-century jetty that invited visitors to" walk on the water "and discover Brighton from the sea" explains Julia Barfield.
The i360 invites you to "walk on the air" and look at the coastal city from a new angle – from the sky. The futuristic-looking glass capsule is fully covered. Rather spacious, it can carry up to 200 visitors. It is 10 times the size of the London Eye of which Julia Barfield is also one of the architects.
Nicknamed "London-on-the-sea" for its touristic attractivity, Brighton is particularly popular in the summer. From the tower, you can see the Isle of Wight, located 80 kilometers from the coast on a bright day. Other points of view are Dartmoor National Park and one of Unesco's "biosphere".
Living it experienced this one-of-a kind vertical ride …