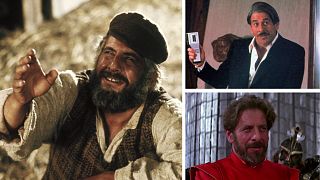 -
Copyright

United Artists - EON - Universal Pictures
Fiddler on the Roof actor Chaim Topol has died at the age of 87.
The Israeli actor is best known for the portrayal of Tevye in the popular musical, for which he earned an Oscar nomination.
The actor was diagnosed with dementia last year.
His death was confirmed in a Twitter post by Israeli president Isaac Herzog, in which he said Topol was "one of Israel's finest theatre artists" and "a titan of Israeli culture."
Israeli Prime Minister Benjamin Netanyahu said Topol's "contribution to Israeli culture will continue to exist for generations."
Benny Gantz, Israel's former minister of defense, praised Topol for helping Israelis connect to their roots: "We laughed and cried at the same time over the deepest wounds of Israeli society," he wrote of Topol's performance.
Several celebrities led the tributes online:
Born in 1935, Topol grew up in a working-class area of Tel Aviv. He got his start in acting in a theatrical troupe in the Israeli army in the 1950s. His career took off after starring as the titular character in the 1964 Israeli comedy Sallah Shabati, for which he won a Golden Globe award.
He picked up a second Golden Globe in 1971 for Best Actor for his role in the musical Fiddler on the Roof, which was adapted for the screen after Topol starred in a successful run on London's West End. He went on to star in a 1991 Broadway revival of the musical.
Topol played the part more than 3,500 times on stage, most recently in 2009.
Topol also starred in more than 30 other movies, including Galileo, Dr. Hans Zarkov in Flash Gordon and James Bond ally Milos Columbo in For Your Eyes Only alongside Roger Moore.
In 2015, he was awarded the Israel Prize - the country's most prestigious award - for lifetime achievement and special contribution to society and the state.
Topol is survived by his wife Galia, who he married in 1965, and their three children, Anat, Ady and Omer.