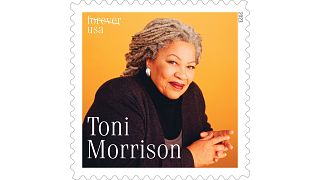 American writer and Nobel Laureate Toni Morrison's photo will now be seen on letters sent across the United States, as her likeness has been immortalised on a stamp by the US Postal Service this week.
Morrison, who became the first black woman to win a Nobel Prize for Literature in 1993, died in 2019 at 88 years old. Her legacy is being honoured with a monthslong series of events at Princeton University, where Morrison taught for almost two decades.
The stamp was unveiled in a tribute at Princeton, which opened with a recording of Morrison's voice reciting a passage on New York City's Harlem neighbourhood from her 1992 novel "Jazz".
"Nobody says it's pretty here; nobody says it's easy either. What it is is decisive, and if you pay attention to the street plans, all laid out, the City can't hurt you," Morrison's voice said in the auditorium.
Later, an all-Black acapella group sang the popular hymn "Lift Every Voice and Sing," which is known in the US as the Black national anthem.
The guest speakers included former US President Barack Obama, Michelle Obama and Oprah Winfrey, as well as the Librarian of Congress, Carla Hayden. President Obama had presented Morrison with the Medal Of Freedom in 2012. 
Pritha Mehra, the chief information officer and executive vice president of the US Postal Service said that the postal service is proud to commemorate Morrison.
"Our new stamp will be seen by millions, and forever remind us of the power of her words and the ideas she brought into the world," she said.
Morrison's novels explored the black experience in America, addressing the painful legacy of slavery in the United States and its effects on contemporary black society. She wrote boldly about topics that other authors avoided, like racism and abuse.
Her 1970 novel "The Bluest Eye" has been targeted by countless book bans in some US states for depicting topics like racism, incest and child molestation.
Morrison's commemoration on the stamp comes amid renewed calls for books to be banned across the US, fuelled by conservative politicians. It also comes amid a global movement for certain offensive language to be expunged from new printings of old books.
At Tuesday's tribute, Oprah Winfrey talked about starting her book club in 1996 with Morrison's novel from the same year "Song of Solomon" in mind.
"Over the years, I selected four of Toni Morrison's books to read as a community, more than any other author," she said in a pre-recorded video shown at the tribute.
Winfrey recalled meeting Morrison on her talk show: "I shared with her that, 'Ms. Morrison, sometimes your books are challenging and difficult for some people to read.' And she said, 'Well think about how difficult they are to write.'"
Princeton's President Christopher Eisgruber stressed that Morrison's legacy will continue to be an inspiration for the university, its community and most importantly, black artists and artists of colour.
"She was a writer of rare genius, brilliant originality and genuinely historic importance," Eisgruber said.