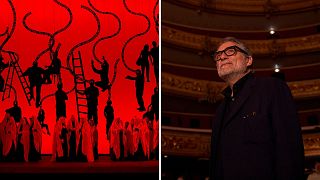 -
Copyright

Credit: David Ruano
For many people Jaume Plensa is the sort of man who needs no introduction. 
An accomplished sculptor and costume designer his giant head-turning and thought-provoking works have been displayed in public spaces around the world for decades. His enormous illuminated silhouettes, huge faces or giant bodies succeed in being both sensuous and surreal.   
That doesn't mean the Catalan-born artist isn't immune from being nervous. Very nervous. 
That's totally understandable, however, as we met on the eve of the world premiere of his directorial debut of Macbeth at Opera Barcelona's Gran Teatre del Liceu . 
Creative types can often easily successfully switch between arts and crafts. But, as the saying goes, there's no place like home and that perhaps, means added pressure to perform.
But Plensa explains that putting Shakespeare on the stage to Giuseppe Verdi's music is a project that's been playing quietly in his own mind for a long time.
Sleep no more
So when invited in 2019 to make the dream real, he leapt at the chance: "I've been working for almost four years on this project. The key point of Macbeth is the point when he realises that he didn't kill the body of a man, he killed the possibility to sleep. That moment of "sleep no more", I guess, it's probably one of the highest concepts in all the tradition, in art, in culture, in literature, in everything."
"I've used that concept many times for my work, because a sculptor has this incredible capacity working with materials to talk about invisibility. I guess, the most important things in life are invisible, and I guess a sculptor has that capacity, probably poetry as well." 
William Shakespeare's play of the Scottish man who would be king combined with the music of Verdi have been life-long loves for Plensa. And this for him makes it a passion project, unlike any other. 
"My experience with Macbeth was almost always reading the book. I loved to read theatre because I could imagine the face of the actors, the situation, the place where things happens. I had that book very early on in my life, and I still keep have it. I arrived to Verdi, this music, a little bit later, and I had to go deeper in the music because it was something new," says Plensa. 
Building bridges
What's also new for opera across Europe post-pandemic is the struggle to survive with funding axed and subsidies squeezed. 
The Gran Teatre del Liceu is no exception and has begun experimenting with streaming its performances to gain new followers far and beyond Barcelona
Its general manager Valentí Oviedo told Euronews Culture he believes that opera is currently standing at a crossroads and has to move forwards with the times. 
"Opera is the lifeblood of European culture, it's very DNA," said Oviedo. "Opera spread across Europe at the same time in the 1600s, much like electronic music did in the 1980s. Now, it has to compete with new media and digital-savvy audiences." 
Plensa sees the opportunity to stream his version of Macbeth as opportunity to build new bridges. As a designer he's used to working in galleries, museums and public spaces and considers the theatre a public space too.  
"When I'm thinking about this production, I'm not only concerned about what's happening on stage because in this project we have almost 80 people singing in the chorus, we have 21 dancers, we have nine soloist. It's a big team. I'm also thinking about the 80 musicians right in front, but also the 2242 people in the audience. That is an incredible energy," says Plensa. "I'm trying to make a link between my dreams and I'm trying to create bridges, the most easy bridges to pass all the information that Shakespeare was dreaming to send to the people sitting right in front of us. And we will see." 
The prospect of having the show filmed, however, he readily admits is not the same because of the absence of an immediate reaction, good or bad; the audience will let you know. 
"I suppose other people in different countries, different cultures, different routes could have different experiences, but I think that it will be fantastic, even if I never know about it. But I guess, for us creators - the enigma. It's a beautiful thing; it's like trying to send a message in a bottle, but we never know where the bottle will arrive, on which beach, through which kind of oceans. It's always fantastic to have the feedback of people." 
Having seen the show, I can assure you that whether you're in the theatre or watching at home, you'll be hard pressed not to be applauding the incredible sights and sounds. The first two acts are perhaps more for the operatic purists; as the players forcefully stake their places and claims in the unfolding melodrama. But the third and final acts force you to sit up as modern dance and imaginatively designed backdrops are interwoven into Shakespeare's classic tale of desire and lustful corrupting power.
Fortunately you can judge yourself whether the Liceu Barcelona is getting it right or wrong this weekend by seeing the show online. 
The iconographic universe of Jaume Plensa in Shakespeare and Verdi's masterpiece runs until 3 March, 2023 at Gran Teatro del Liceu Barcelona.
Watch our interview with Jaume Plensa and preparations for the show in the player above