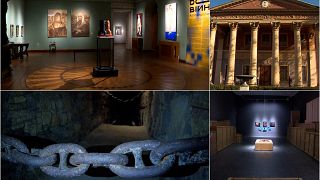 Odesa Fine Arts museum became a shelter for people during the war after Russia began its attack on Ukraine in February 2022.
But this is not the first time it has been used as a place of refuge for people and artworks.
Odesa Museum of Fine Arts has wide, strong, and long catacombs under the soil. They were excavated in World War II to provide protection from Nazi bombing. 
Now Odesa citizens have sought shelter here from the bombs of the Russian army. The catacombs are not suitable for works of art because of the temperature and humidity so they are kept in other places.
The museum, in Potocki palace, is next to the Black Sea. Upstairs in the rooms, the walls are bare. The paintings that dressed them have been evacuated to a safe and secret place. And they have been inspired by the protocol of the Prado Museum in the Spanish Civil War, to carry out the evacuation.
"Eight years we are under occupation, I mean the museums of Crimea and the east of the country, large museums such as regional museums in Donetsk or Luhansk," says Kirill Lipatov, the head of the scientific department at the Odesa Museum of Fine Art.
Museums are taking inventories and speeding up digitisation so that the stolen works don't disappear. Teams of lawyers are working with international organisations to raise alerts if they appear at auction anywhere in the world.
The Odesa Museum of Fine Arts, with more than 120 years of history, is still open.
In spite of the war, they do not want to close, so the great works have been replaced by paintings of young Ukrainians about the war.
For more watch the video in the above player.