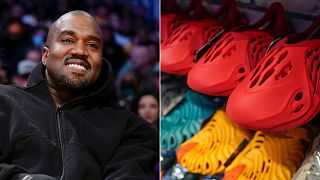 Adidas has a Yeezy problem.
The German athletics brand announced last week that it's sitting on more than a billion euros worth of merchandise from its now-cancelled collaboration with the artist formerly known as Kanye West.
In its fourth profits warning since July, Adidas said that not selling the remaining Yeezy stock would cost the company €500 million, adding to another €200 million of losses from a restructuring plan this year. That means Adidas could post its first loss in three decades.
"The numbers speak for themselves. We are currently not performing the way we should," CEO Bjørn Gulden said in a statement. "2023 will be a year of transition to set the base to again be a growing and profitable company."
Adidas was one of many business partners to dump West last year after a string of racist and anti-Semitic comments saw his fortune and career sink faster than he could say Ye.
Caving to public pressure, Adidas scrapped its collaboration with Ye in October - saying goodbye to the most lucrative celebrity partnership in its repertoire. The Yeezy line was said to be worth €1.4 billion ($1.5 billion) at its peak, generating close to 10 per cent of Adidas' total annual revenues.
On top of the money, Yeezy helped save Adidas from cultural obsolescence, putting the legacy German brand on equal footing with athletics giants like Nike with innovative designs like the futuristic and divisive Foam Runner sneaker.
After partnering with Ye in 2013, Adidas also bagged other big-ticket celebrity partnerships like Beyonce's Ivy Park and Kylie Jenner's Falcon reboot.
But now that the company's cash cow has uttered its final moo, Adidas faces a dilemma: what to do with the leftover inventory?
The company is reportedly looking into repurposing Yeezy products under its own label, but the line's distinctive designs could make that a difficult task.
Celebrity partnerships 2.0
While Ye's fall from grace may cost Adidas dearly, the celebrity partnership is still central to the company's long-term plans.
As part of its upcoming transition, Adidas is expanding its presence in the growing athleisure market with its first new label in 50 years.
Adidas Sportswear, as it's been christened, targets a younger audience, with Gen Z It-girl Jenna Ortega (star of Netflix's breakaway hit show "Wednesday") as the face of the label.
Adidas called Ortega "a true reflection and champion of individualism and versatility – aligning perfectly with what Adidas Sportswear has been designed to embody."
"I am huge advocate of expressing all your different pursuits, passions, and traits, whether that is through what you do, what you wear or what you champion – which is why I was so excited to work with adidas on this new label," Ortega said of the line.
Adidas Sportswear launched internationally on February 9, featuring "sport-inspired pieces built with comfort at its core" – the perfect work-from-home garb that also doubles as trendy streetwear.
It's a big bet from the company on the future of athletic apparel – the athleisure market is expected to top €600 billion by 2030.