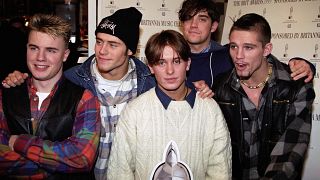 -
Copyright

Neil Munns/AP1993
13 February 1996: A boy band break up breaks hearts everywhere
I'm gonna populate today's Cultural Re-View with a few cultural favourites that are all celebrating their anniversaries today.
First up is Take That. The Manchester boy band formed in 1990 with Gary Barlow, Robbie Williams, Jason Orange, Mark Owen and Howard Donald. They quickly rocketed to stardom in the UK with massive hits like 'Back for Good', 'Never Forget' and 'Babe' all topping out the charts.
As it was looking like Take That might finally break the US market with 'Back for Good' charting at #7, problems emerged. Williams had a problematic drug habit and nearly overdosed in 1994 before a performance. He was given an ultimatum to clean up, but it was no good and at the end of 1995 the band agreed to break up.
The break-up announcement came to light on this day in 1996, followed by a 'Greatest Hits' compilation album. But this was no usual break up. Take That had reached a stratospheric level of influence over the British charts. In the UK, teenage girls threatened suicide and the government set up a hotline for people to call for counselling over the band's decision.
In the end, Williams went his own way and has paved a successful solo career, while a decade later Take That reformed without him to great success. Williams even reunited with the band for their 2010 album 'Progress'.
1886: Jesse James holds up his first bank
Now to jump over a century into the past and picture the American south, in the wake of the Civil War. A young Jesse James is tied up with a bushwacker gang in Missouri which commits a daylight armed bank robbery of the Clay County Savings Association.
In the ensuing escape, 17-year-old George C. "Jolly" Wymore, a local student, was shot and killed. He would be the first victim of James' criminal career, which made him infamous throughout America as a violent gang leader and robber, until he was murdered by new gang recruit Robert Ford in 1882.
While James the criminal died aged 34, what lived was a legacy as a criminal that captured the cultural imagination of the country. A Robin Hood-like figure, James' career as a post-Civil War bandit has created a romantic narrative of a lawless man uncontained by a fledgling new era of a country.
James and his gang are the subject of countless dime novels, films and comics and is the inspiration for countless outlaw characters. Most recently, his life and murder is poignantly rendered by 'Blonde' director Andrew Dominik's ponderous and touchingly melancholic 'The Assassination of Jesse James by the Coward Robert Ford'.
1996: 'Rent' debuts off-Broadway
Finally, let me take you back to 1996 but this time on the other side of the Atlantic. After years of toiling away, the preternaturally talented musical songwriter Jonathan Larson was finally getting somewhere.
Living in New York, the composer had been trying for years to write a successful musical, first with 'Superbia', then 'Tick, Tick… Boom!'. But in 1993, Larson organised a staged reading of his latest, 'Rent'. The story of a diverse group of friends refusing to pay their rent as they struggle as artists in the midst of the AIDS crisis in New York was a new type of musical with rock instrumentation at the forefront.
On this day in 1996, 'Rent' debuted in New York Theatre Workshop, off-Broadway. It was a success in the 150-seat theatre and demand from Broadway came, opening at the Nederlander Theatre on 29 April 1996.
'Rent' is one of the most successful Broadway shows ever but sadly Larson never got to find that out. On 24 January 1996, after the musical's final off-Broadway dress rehearsal, Larson suddenly died from an undiagnosed aortic aneurysm.