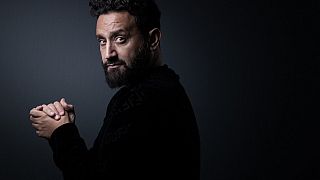 -
Copyright

JOEL SAGET/AFP
"You know you're in the Bolloré group here. What the fuck are you doing here?"
That's how French TV host Cyril Hanouna abruptly interrupted his guest, the MP Louis Boyard, back in November 2022.
Seconds earlier, the left-wing lawmaker had mentioned "Cameroon's deforestation", which according to him was the making of businessman Vincent Bolloré through a palm tree exploitation company he partly owns.
Bolloré, the chairman and CEO of the investment group Bolloré, also happens to be a stakeholder of the TV channel C8, on which the talk show was being broadcast live.
Following his first interruption, the host continued to cut off his guest and called him all sorts of names including "idiot", "fool" and "piece of shit".
Hanouna angrily reminded the MP that before turning to politics, he was a journalist on the show:
"You didn't mind accepting the money when you were here. We don't even know what you are referring to. Me, I don't bite the hand that feeds me, and you should not bite the hand that fed you."
Record fine
The French broadcasting regulator just published its conclusions on the heated scene, which state that the guest was kept from criticizing one of the stakeholders of the company. In doing so, the show did not guarantee freedom of information.
On top of the formal warning to not allow such a behavior to happen again, the TV channel was fined a record €3.5 million.
Reacting to this news, French Culture Minister Rima Abdul-Malak said it was not the first time a channel partly owned by Vincent Bolloré had to be warned by the broadcasting regulator. Abdul-Malak hinted that their broadcasting license could be revoked in the future if those channels kept on infringing freedom of press laws.
Abdul-Malak also expressed concerns over the tone struck by the rest of the media outlets partly owned by Bolloré.
Over the past decade, the French businessman - who as of January 2023 has net worth is estimated at approx. €9.4 billion - has bought several media outlets in radio, TV and print. Many have accused him of using his wealth to buy means to convey his conservative or even far-right views.