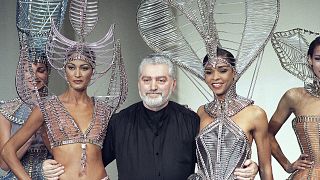 Fashion designer Paco Rabanne has died, aged 88. Born Francisco Rabaneda y Cuervo, the designer passed away today at his home in France.
"The House of Paco Rabanne wishes to honour our visionary designer and founder who passed away today at the age of 88. Among the most seminal fashion figures of the 20th century, his legacy will remain," read a statement from Puig, the parent company to Rabanne's brands.
Rabanne was born in 1934 but soon moved to France to escape the Spanish Civil War. He studied architecture in Paris, where he earned money by making fashion sketches for Dior and Givenchy.
After he graduated, he started working as a jewellery designer for the same two fashion houses as well as Balenciaga. Finally, in 1966 Rabanne opened up his own fashion house.
He debuted his first collection with the fashion house under a show called: "Manifesto: 12 unwearable dresses in contemporary materials".
Beyond clothing, Rabanne expanded into perfume with a 1969 collaboration with the company Puig, launching 'Calandre'.
One of the co-creators of the Space Age movement in fashion, Rabanne created the famous green costume Jane Fonda wore in the 1968 sci-fi film 'Barbarella'.
In 1999, Rabanne officially retired. His fashion house has gone through its ups and downs since, but it remains prominent and respected for his perfumes and trademark metallic collections.