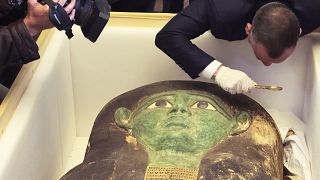 Copyright

Mohamed Salah/AP
-
An ancient wooden sarcophagus that was previously displayed at the Houston Museum of Natural Sciences has been returned to Egypt by US authorities, after it was determined it had been looted several years ago, Egyptian officials announced. 
According to Mostafa Waziri, the top official at the Supreme Council of Antiquities, the sarcophagus dates back to the Late Dynastic Period of ancient Egypt, an era that spanned the last of the Pharaonic rulers from 664 B.C. until Alexander the Great's campaign in 332 B.C.
The sarcophagus, which is almost 3 metres (9.5 feet) tall with a brightly painted top surface, may have belonged to an ancient priest named Ankhenmaat, though some of the inscription on it has been erased. 
The return of the spectacular treasure came more than three months after the Manhattan District Attorney's Office determined the sarcophagus was looted from Abu Sir Necropolis, an ancient Egyptian burial site located in Abu Sir, in the north of Cairo.
It was smuggled through Germany into the United States in 2008, according to Manhattan District Attorney Alvin L. Bragg.
"We received today an important ancient piece that was looted and smuggled from Egypt to the US a few years ago," said Ahmad Issa, the Egyptian Tourism and Antiquities Minister at a special ceremony unveiling the object in Cairo. 
"Through the joint efforts of Egyptian, international and American authorities, and after more than two years of investigation, we succeeded in returning it," he added. 
Growing efforts to return stolen Egyptian artefacts
The repatriation demonstrates the significant push by the Egyptian government to reclaim stolen artefacts and bring them back to the country. 
In fact last year authorities in Cairo succeeded in getting 5,300 stolen artefacts returned to Egypt from across the world.
However, these efforts are still a long and challenging process, most notably with the ongoing calls to retrieve the Rosetta Stone, an ancient artefact that was taken from Egypt by British soldiers in the 19th century and has been housed in the British Museum ever since.
"Today, the Rosetta Stone for me, is a symbol of western colonialism over my culture," said Monica Hanna, dean at the Arab Academy for Science, Technology & Maritime Transport in Egypt, and organiser of one of two petitions calling for the stone's return.
Hanna's petition, with 4,200 signatures, says the stone was seized illegally and constitutes a "spoil of war".
The claim is echoed in a near identical petition by Dr Zahi Hawass, Egypt's former minister for antiquities affairs, which has more than 100,000 signatures.
Check out the video above to see the official return of the spectacular sarcophagus.