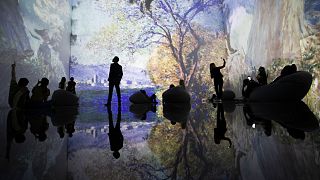 'The Theatre of Digital Art' opened its doors to art lovers in Dubai on October 13.
Located in the heart of tourist hotspot Souk Madinat Jumeirah, the theatre is offering an exhibition that engulfs visitors in artworks using multisensory technology.
Whilst maintaining COVID-19 safety protocols, spectators sit and watch art come to life around them on the 1,800 square metres of amphitheatre walls.
Masterpieces by Vincent Van Gogh, Claude Monet, Wassily Kandinsky and more are transformed into 360-degree digital projections.
Step into masterpieces with virtual reality
When painting 'Starry Night', 10 years after the invention of the light bulb, it would have been inconceivable for Van Gogh to imagine his work being explored using virtual reality technology. Today, the Theatre of Digital Art (TODA) has a VR room which offers visitors the chance to walk into masterpieces and experience them like never before.
At the exhibition, artistically-inspired visitors can even express their creativity by 'painting with light'. Imagine Microsoft's 1985 Paint software with a 2020 VR twist. Using the VR headset and two hand controllers the user paints in a 3D space, as if painting the air around them. The left-hand holds the palette and the right the paintbrush.
For the next generation of artists, there is an interactive space for children to see their drawings transformed into the digital art space.
The innovative exhibition is a creation by Vision Multimedia Projects. Their works have toured over 11 cities and have been seen by over 1.5 million people.
The exhibit has now found its home in Dubai, adding another destination to the city's growing arts scene.